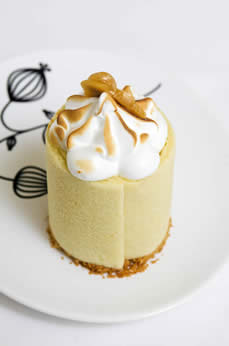 Gourmet Peanut Butter Recipes
Award-Winning Peanut Butter Recipes So Good, You'll Want To Have Dessert For Dinner!
Last fall, Peanut Butter & Co., manufacturers of gourmet peanut butter, set forth a challenge to culinary school students in New York, New Jersey, and Connecticut to create restaurant-quality desserts using the company's gourmet peanut butter. The The Peanut Buttery Dessert Contest judging and award ceremony took place recently at The Institute of Culinary Education in New York City. We're pleased to present the three winning recipes.
Peanut Butter Panna Cotta With Caramel Mousse
Jiyoun Oh, who is originally from Seoul, South Korea, and a student at The Culinary Institute of America, was Peanut Butter & Co.'s Grand Prize Winner, with an inspired idea of combining peanut butter and caramel together. The recipe has a prep time of 2 hours and serves 8.
Ingredients
Peanut Butter Panna Cotta
2 cups milk
1/3 cup sugar
1 1/2 pieces vanilla bean
3 ounces dry roasted peanuts, coarsely chopped
Pinch of salt
egg yolks
1/4 cup smooth peanut butter (Ms. Oh used Peanut Butter & Co.'s
Smooth Operator peanut butter)
1-1/2 gelatin sheets, bloomed
Joconde Sponge*
1 1/2 cups almond flour
1/3 cup (scant) cake flour
3 eggs
1 generous cup confectioners' sugar
3 egg whites
1 generous tablespoon sugar
2 tablespoons butter, melted and cooled
*Joconde is an almond sponge cake.
Graham Cracker Base
1/2 cup graham cracker crumbs
1/2 cup roasted peanuts, ground
3 tablespoons butter
3 generous tablespoons smooth peanut butter
Caramel Mousse
3/4 cup sugar
2 drops lemon juice
1/4 cup plus two tablespoons heavy cream
3 tablespoons butter
3/4 cup heavy cream
4 egg yolks
1 tablespoon sugar
4 egg whites
1/4 cup plus 1 tablespoon sugar
pinch of salt
2 pieces gelatin sheets, bloomed
Garnish
1 generous cup sugar
4 egg whites
2/3 cup sugar
1/2 cup whole roasted peanuts, shelled
2 tablespoons butter
Preparation
Start with preparing peanut butter panna cotta. Make vanilla sauce with the first five ingredients. Add coarsely-chopped peanuts to the milk, sugar, vanilla bean and salt, and bring to a boil. Cover and allow to steep for as long as possible. While steeping the peanuts, prepare the other components.

To prepare the joconde sponge, whip the eggs and confectioner's sugar on medium speed until very light, 15 to 20 minutes. While whipping, combine the cake flour with the almond flour and sift together. Whip the egg whites with the sugar until medium peaks form. Fold one third of the beaten egg whites into the egg yolk mixture and gradually fold in the dry ingredients. Fold in the remaining egg whites followed by the melted butter. Evenly spread on a sheet pan and bake at 400°F for 5 to 7 minutes. Transfer to another sheet pan to cool completely.
To make the graham cracker base, combine thoroughly the graham cracker crumbs, ground peanuts and butter. Slightly press the crust into a prepared pan and cut with a 2-1/2 inch round cutter. Bake at 350°F for 8 to 10 minutes.
Cut the acetate 2-1/4 inch by 8-1/2 inch and put around inside the ring molds. Cut the joconde sponge 2-1/4 inch by 8 inch. Spread peanut butter on top of the graham cracker base and put in the bottom of the molds. Put the joconde sponge around inside the ring molds. Set aside.
To finish the peanut butter panna cotta, strain it into a clean saucepan and bring it back to a boil. When it gets to boil, temper the egg yolks, whipping constantly, and bring it back to the heat to make nappe. Blend the vanilla sauce, chopped peanuts that were used for steeping and peanut butter together, strain, add the melted gelatin, and cool to 70°F. Pour into molds and freeze until set.
While setting the peanut butter panna cotta, prepare the caramel mousse. Start with making soft caramel. Bring the 1/4 cup plus two tablespoons heavy cream to a boil and keep it warm. Make caramel with the sugar and the lemon juice. Slowly add the warm heavy cream followed by the butter. Add the melted gelatin and keep warm. Whip the 3/4 cup heavy cream to soft peaks and keep it in the refrigerator. Make sabayon with the egg yolks and the sugar and make Swiss meringue with egg whites and sugar. Fold sabayon into the caramel and then the meringue. Fold in the cream and pipe immediately.
Assembly: Pipe 1/4 ounce of the caramel mousse into each mold and put the peanut butter panna cotta on top of it. Pipe more mousse up to the end of joconde sponge. Freeze until completely set.
Garnish: Make Swiss meringue and pipe on top of the cake. Pipe pearls with #4 tip around the cake and use #3 star tip for the center. Slightly torch it. To make caramelized peanuts, combine sugar and peanuts in a heavy sauce pan and caramelize sugar. When sugar is melted, tilt pan to evenly cover peanuts with caramelized sugar. Take off of the heat and add the butter. Mix well with a wooden spoon. Place on the parchment paper and allow to cool before serving.

Next Recipe: Toasted Peanut Butter & Jelly Ravioli With Cinnamon Ice Cream
© Copyright 2005-2015 Lifestyle Direct, Inc. All rights reserved. Images are the copyright of their respective owners.