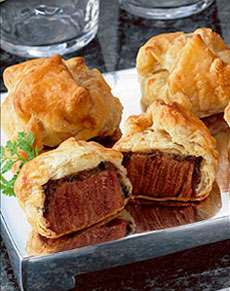 Mini Beef Wellingtons emerge from your oven to great acclaim. When it comes to beautiful hors d'oeuvres, frozen is a good thing.

April 2005
Updated May 2009

Black Tie Hors D'Oeuvres
Seven Minutes To Dinner At Eight
Page 1: Calculating The Hors D'Oeuvres
CAPSULE REPORT: Black Tie is a maker of high-quality frozen hors d'oeuvres sold at fine retailers. A large portion of its business is to foodservice—caterers and restaurants—so those tasty hors d'oeuvres you had at a reception or a wedding might well have been Black Tie's. Here, the company shares how to calculate the number of hors d'oeuvres you'll need for your guests. This is Page 1 of a two-page article. Click on the black links below to visit other pages.
Overview
While hors d'oeuvres in general are pricey—and justifiably so, because of the time to do the handwork involved—Black Tie uses only quality ingredients and has well-seasoned, imaginative recipes. If you're going to spend your money, these are worth it.
Black Tie's menu leans toward American favorites (mini quiches, cheese puffs, crab cakes). Approximately 15 choices include several the kids will enjoy (mini-pizzas, egg rolls, empañadas, and yes, franks in blankets). In fact, Black Tie suggests them as light dinner fare—and if your child is a finicky eater, this "fun finger food" (don't call them hors d'oeuvres) may be one way to coax fussy eaters.
They go from freezer to plate in just seven or eight minutes. What more could a busy parent, host or hostess ask for?
Calculating The Number Of Hors D'Oeuvres That You'll Need

If you will be serving dinner, allow 4 to 6 hors d'oeuvres per person.
Dinner Party
Number of Guests

10

15

20

25

30

35

40

50

55

60

100

Butler Passed Style

Number of hors d'oeuvres

40

60

80

100

120

140

160

200

220

240

400

Number of Black Tie trays needed*

4

5

7

9

10

12

14

17

19

20

34

Buffet Style

Number of hors d'oeuvres

60

90

120

150

180

210

240

300

330

360

600

Number of Black Tie trays needed*

5

8

10

13

15

18

20

25

28

30

50
*Black Tie Hors D'Oeuvres are packaged 12 to a tray.

If you're hosting a cocktail party with no dinner to follow, allow for 8 to 10 hors d'oeuvres per person.
Cocktail Party
Number of Guests

10

15

20

25

30

35

40

50

55

60

100

Butler
Passed
Style

Number of
hors d'oeuvres

80

120

160

200

240

280

320

400

440

480

800

Number of
trays needed

7

10

14

17

20

24

27

34

37

40

67

Buffet
Style

Number of
hors d'oeuvres

100

150

200

250

300

350

400

500

550

600

1000

Number of
trays needed

9

13

17

21

25

30

34

42

46

50

84

Note that caterers calculate "per person" rather than "per hour" because cocktail parties are typically capped at 2 hours. They are meant to be cocktails enjoyed before dinner.
A cocktail party enables a host to entertain more people and enables them to mix more than a typical dinner party.
A party of longer duration that is not followed by dinner would be an "open house" of 3 or 4 hours. Since some guests might actually be there for the entire duration and would at some point seek more extensive food, a light buffet is generally provided.
Depending on the season and the time of day (an open house can begin in mid-afternoon), the buffet could include cold salads and platters, hot foods or a mix.
Of course, you can have hors d'oeuvres as well as buffet items at an open house, and you can serve a buffet at a cocktail party; though in the latter situation, many people will not fully partake of a buffet if they have dinner plans afterward.
Continue To Page 2: How Many Types Of Hors D'Oeuvres Should You Serve
Chart content copyright Black Tie. Other content © Copyright 2005- 2015 Lifestyle Direct, Inc. All rights reserved. Images are the copyright of their respective owners.