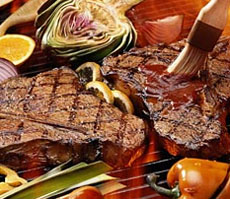 Even the most gorgeous piece of meat enjoys some barbecue sauce. Photo of Dakota Beef 100% organic steak.


Rubs, Marinades, Grilling Sauces & Glazes
Gourmet Barbecue Sauce, Reduction Sauce, Simmer Sauce & Other Flavor-Enhancers
It seems that we taste a hundred barbecue sauces, marinades, and rubs a year. Now, we're in the process of translating our written tasting notes into online reviews. We've started this section off with one of our gold medal favorites. If you'd like to tell us about your favorites, click here.
How do you spell BBQ? People often ask about the correct spelling: Is it barbecue, barbeque bar-b-que or BBQ? The answer is that barbecue and barbeque are alternative spellings, and BBQ is the abbreviation. We chose to use "barbecue" in THE NIBBLE because more of the professional barbecue groups use that spelling—although frankly, barbeque, which has the "q" in BBQ, makes more sense to us!

Barbecue Trivia: The word "barbecue" comes from the Haitian Arawakan word "barbakoa," meaning "framework of sticks." It refers to a raised wooden structure used to either sleep on or cure meat.
Nibble Tip

If you're invited to a barbecue, bring the hosts a gift sampler of different flavored rubs. Even if your hosts like to blend their own herbs and spices, they're certain to discover something new...and invite you back soon! Companies like Nantucket Offshore have specialized rubs for meat, fish, vegetables, pasta, pizza and more. Flavors transport you from the Mediterranean to the Caribbean, Mexico, Asia and beyond.


Nantucket Offshore's Global Grilling Kit has has eight different herb and spice blends showcasing flavors from all over the world

© Copyright 2005-2015 Lifestyle Direct, Inc. All rights reserved. Images are the copyright of their respective owners.