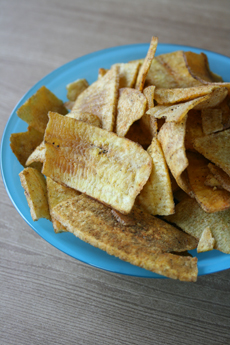 Grab 'Em Snacks in Rajin' Cajun—a great snack or garnish. All photography by Hannah Kaminsky | THE NIBBLE.
CHRISTINA GONZÁLEZ is an Editorial Intern at THE NIBBLE.

Grab 'Em Snacks Plantain Chips
Page 3: The Flavors of Grab 'Em Snacks
CAPSULE REPORT: Grab 'Em plantain chips are flavorful and crunchy, as well as vegan, gluten free and all natural (they contain no preservatives or artificial ingredients). This is Page 3 of a three-page article. Click on the black links below to visit the other page.
Flavors Of Grab 'Em Snacks
Grab 'Em Snacks makes gourmet plantain chips by hand in small batches using quality and organic ingredients: high-oleic safflower oil, sea salt, herbs and spices. Compared to other plantain chips, they are lighter and only minimally greasy. They are also thickly cut, with a satisfying texture and great crunch.
The chips come in seven different flavors to tempt every palate, both savory and sweet. Grab 'Em Snacks are also vegan, gluten free and contain no preservatives or artificial ingredients.
For those who are fans of banana chips, which are typically coated in sugar or honey and then fried in oil, plantain chips are a healthier alternative, with only 2g sugar per serving and 0.5g saturated fat (compared to the 8g of artery-clogging saturated fat in the typical bag of banana chips). If you haven't already reviewed the difference between bananas and plantains, do it now.
The typical plantain chip is cut into circles, or what is known in the business as a coin shape (shown in the photo at right). Several flavors are cut lengthwise into long pieces more properly known as plantain strips, and they're a great shape for garnishing food (shown in the photo above).

The strip cuts also have more surface area for the spices to adhere and are extra flavorful as a result. Here's what we thought of the line:

Chili Garlicious. Spicy red chili meets pungent garlic in a blend that complements the starchy, slightly sweet plantain chip well. It's reminiscent of the Puerto Rican garlicky mashed plantain dish, mofongo (in fact, serve the chips as a crunchy garnish for mofongo). Unlike the Red Chili flavor, which is overpowering and has a strong aftertaste, the seasonings here are well-balanced. We kept reaching for more.




You can have "plain" sea salt chips or six flavors.
Cinful Cinnamon. We were really looking forward to these, but they were disappointing. The cinnamon flavor is too subtle, and the nutmeg and cardamom are at the forefront. If you like these spices, you'll like the chips; but for a product billed as cinnamon flavored, it needs more of it (perhaps that's the "cinful" part).
Fire-Me-Up Red Chili. These completely lived up to their name. The heat doesn't hit you for a few seconds, but when it does, you might find yourself running for a glass of water. The chili was so overpowering that we couldn't even taste the plantain at all. And it had an incredibly strong aftertaste too. These were way too overseasoned for us, but fans of extreme heat could be satisfied.

Jalapeño Heat. These had a pleasant kick, with a medium heat and a jalapeño flavor that's consistent. Even those who normally shy away from heat might enjoy them. While they do have a bit of a bite on the tongue, they won't leave your mouth aflame like the Fire-Me-Up variety, and the intensity doesn't last in the mouth.




The heat level in Jalapeño Heat is just perfect.
Perfectly Peppered Black Pepper. Each chip is generously peppered and flavorful. The seasoning is strong, but plays off the starch of the chips nicely. These coin-shaped snacks are perfect for snacking or with sandwiches.
Ragin' Cajun. With ingredients like allspice, basil, bay leaf, cayenne, celery seed, garlic, paprika, red chili, rosemary and white pepper, you'd definitely expect a lot of flavor from these strip-shaped chips. They lived up to their name, with the starchy chip providing a base for the flavorful bite of the cayenne and chili combination. Though the spices here seemed a little "everything but the kitchen sink," we enjoyed them with our lunch.
Sea Salt Goodness. Light and crisp, with just enough salt to complement the starchy chip, these made a tasty accompaniment to a hummus and vegetable lunch. A good change of pace if you're used to potato chips.
Ready for a chipfest? Order them now, or look for them at your favorite retailer.
Grab 'Em Snacks
plantain chips

Chili Garlicious, Cinful Cinnamon, Fire-Me-Up Red Chili, Jalapeño Heat, Perfectly Peppered Black Pepper, Ragin' Cajun, Sea Salt Goodness

4-Ounce Bag
$2.25-$3.00

8-Ounce Bag
$4.00-$5.25

16-Ounce Bag
$7.25-$9.25

Purchase online* at
GrabEmSnacks.com or at select
markets nationwide.

*Prices and product availability are verified at publication but are subject to change. Shipping is additional. These items are offered by a third party and THE NIBBLE has no relationship with them. Purchase information is provided as a reader convenience.


Try them all!



READ MORE REVIEWS OF OUR FAVORITE
SNACKS
© Copyright 2005-2015 Lifestyle Direct, Inc. All rights reserved. Images are the copyright of their respective owners.