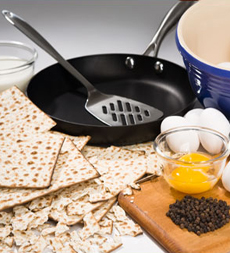 Get ready to discover what may well become a new breakfast and brunch favorite. Photo courtesy Zabars.com.

Recipe: Matzo Brei
Matzo, Matza, Matzoh, Matzah, Brei or Brie...Any Way You Spell It, It's Delicious

CAPSULE REPORT: What's for breakfast? Try Matzo brei. "Brei" means fried in Yiddish, so Matzo brei is fried matzo; but it's also a cross between French toast and scrambled eggs. It's one of our favorite dishes year-round; but it's especially welcome during Passover, when observant Jews don't eat leavened bread. Enjoy it for breakfast, brunch, lunch or a hot snack.

Overview
Originating among Central European Jews, matzoh brie (pronounced MOTT-so BRY) is matzo fried with eggs into a kind of frittata or scramble, depending on how you cook the dish. Everyone has his or her own favorite recipe. It can be served savory, with herbs, onions, smoked salmon or other inclusions; or sweet, topped with jam or syrup. See variations below.
How many ways can you spell matzo brei? Here's what we discovered:
First, choose "brei" or "brie." We prefer brei, since it can be pronounced like it's spelled, and doesn't confuse anyone with Brie cheese. (And you can add Brie to matzo brei: Although it's not traditional, it's rich and fabulous.)
Next, pick your favorite spelling of matzo. The many different spellings come from the different countries in Central Europe where matzo brei was born.
A > A
A > O
O> A

Matza

Matzah

Matzo

Matzoh

Motzah

This recipe is courtesy of Andrea Watman, Creative Director at Zabar's in New York City, who prefers the spelling, "matzoh brie." We've adjusted her spelling, because more than four times as many people are looking for "matzo brei." (Yes, that's how editorial decisions are made online.)
Matzo Brie Recipe

Ingredients

6 plain matzo boards
Hot water
5 large eggs
¼ cup milk
¼ tablespoon kosher salt
½ tablespoon ground black pepper
3 tablespoons butter for frying
1 tablespoon corn oil for frying (or you can use all butter or all oil)




A "pancake style" or frittata-style matzo brie made all in one piece. Photo by Maya Meymud | Wikimedia Commons.
Preparation
Break the matzo boards into pieces in a large bowl and cover with hot water. Soak for approximately 1 minute and drain completely. Leave in bowl.
Mix eggs, milk, salt and pepper in a separate bowl and pour over matzo pieces. Be sure to mix well so that all the matzo pieces are covered in egg-and-milk mixture.
Heat butter and/or corn oil in a 12" heavy fry pan. Add matzo mixture.
Brown and flip to brown other side. Some people prefer to turn the matzo brei "frittata style," in large pieces. Others prefer to break up the mixture in the pan to create many more browned crunchy edges, "scramble style."
Allow the edges to brown and cook long enough so that the entire mixture is totally cooked. Total cooking time: 5-10 minutes.
Serve immediately. Serves 4.
Matzo brei isn't the prettiest food—neither are hash brown potatoes, which they resemble—but it tastes great.
Recipe Variations
Savory Matzo Brei Variations
Onion Matzo Brei: sauté a chopped onion in the fry pan before adding the matzo mixture.
Mushroom Onion Matzo Brei Sautéing ½ pound fresh sliced mushrooms and a chopped onion in the fry pan before adding matzoh mixture.
Smoked Salmon Matzo Brei: Add 1/4 cup smoked salmon to the matzo mixture. Sauté a chopped onion in the fry pan before adding the matzo mixture.
Freestyle Matzo Brei: Add your favorite ingredients—just as with an omelet. Try Green onions, roasted red pepper, leftover chicken—anything that catches your eye.
Veggie Matzo Brei: Add chopped carrots, broccoli and cheese, with optional pesto sauce. Here's the recipe.
Sweet Matzo Brei Variations
Sugar & Spice Matzo Brei: Reduce salt to 1/8 teaspoon. Sprinkle with cinnamon-sugar mix (half cinnamon, half granulated sugar) or confectioners' sugar.
Sweet Matzo Brei. Reduce salt to 1/8 teaspoon. Top with favorite preserves, marmalade, jam or syrup.
If you like sweets, be sure to see our recipe for Caramel Matzo Buttercrunch, an addictively good dessert or snack.
Another Recipe: Matzo Brei With Broccoli & Cheddar
© Copyright 2005- 2015 Lifestyle Direct, Inc. All rights reserved. Images are copyright of their respective owners.