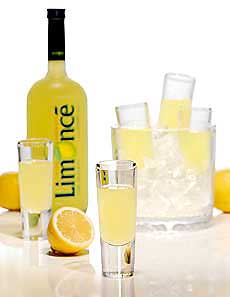 Limoncello is a sunny, citrusy treat. It's delicious in mixed drinks or, as shown here, served as a cordial.

Limoncello Cocktails
Page 4: Simple & Elegant Cocktails
This is Page 4 of a five-page article. Click the black links below to view the other pages.
Limonata
Limonata is Italian for lemonade. This is a lovely lemonade for grownups.
Ingredients Per Cocktail

2 ounces citrus vodka
1/2 ounce limoncello
1 ounce fresh lemon juice
3/4 ounce simple syrup
1 lemon slice

Preparation

Add all ingredients to a shaker with ice.
Shake vigorously and strain into a chilled cocktail glass.
Garnish with a slice of lemon.

Lemon heaven, straight up.
Tryst In Trieste
Limoncello was first crafted in the ancient Italian city of Trieste. This beauty pays homage to that birthplace.

Ingredients Per Cocktail

2 ounces orange liqueur
2 ounces Scotch
1-1/2 ounces limoncello
Splash of soda water
1 cherry
1 lemon wedge

Preparation

Put one cherry and wedge of lemon into a mixing glass and muddle.
Add ice, limoncello, orange liqueur and Scotch, shake vigorously.
Pour into a rocks glass with a long splash of soda.

Serve the Tryst In Trieste at sunset, and your cocktails will match the beauty of the sky.
Go To Page 5: Sparkling Cocktails
Recipes © Copyright Distillerie Stock USA Ltd. Additional material © Copyright 2005- 2015 Lifestyle Direct, Inc. All rights reserved. Images are the copyright of their respective owners.