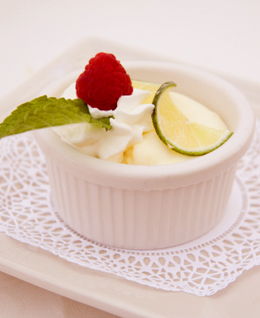 You can make a "pot de crème" in a standard ramekin. Photo by Kristen Johansen | IST.
August 2007
Updated August 2009

Recipes: Key Lime Pie Pot De Crème
Same Great Taste With No Crust
Key Lime Pot De Crème Recipe
The recipe will fill six half-cup pots de crème, panna cotta dishes or ramekins. The ingredients are the same as for the Key lime pie, minus the crust.
Ingredients
1½ tablespoons grated lime zest
1 cup fresh lime juice (about 20-22 Key limes or 8 to 12 Persian limes)
8 egg yolks, large or extra-large
2 cans (14 ounces) sweetened
condensed milk
Whipped cream (optional, and not to be used with meringue top)
Raspberries and mint leaves for garnish (or graham cracker crumbs—see
#6 below)
Preparation For Key Lime Pot De Crème
The directions are essentially the same for the pie filling.
Preheat the oven to 325°F.
Mix the filling in a bowl with a pouring lip, or else pour the filling into a large measuring cup with a lip. This will help you fill the pots de crème or ramekins easily.
Distribute the filling among the pots or ramekins and place them in a large baking dish. Fill the dish with hot water to within ½ inch of the top of the pots. Cover the dish with aluminum foil and bake until the custard is set in the center, approximately 15 minutes. Do not overbake.

Remove the dish from the oven and carefully remove pots—do not splash water into the custard. If you are using pots de crème, it helps to put the lids on before removing them; if you are using ramekins, cover them with plastic wrap.

Refrigerate until the custard is fully set, 3 to 4 hours or overnight.

If you wish to garnish with a sprinkle of graham cracker crumbs, or serve with a side of graham crackers, buy a gourmet variety like Tiny Trapeze graham crackers). You'll have a "deconstructed" Key lime pie.
© Copyright 2005-2014 Lifestyle Direct, Inc. All rights reserved. Images are the copyright of their respective owners.