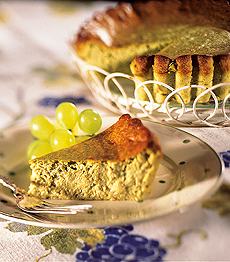 A classic savory cheesecake with a twist. Photo courtesy Wisconsin Milk Marketing Board.

Product Reviews / Main Nibbles / Hors D'Oeuvres & Cocktail Snacks
Savory Cheesecake Recipes
Page 5: Provolone & Corn Cheesecake

This is Page 5 of a 5-page article. Click the black links below to view the other recipes.
Savory Cheesecake
This is a classic savory cheesecake recipe: a savory cheese (here, Provolone or Gruyère), onion (in this case, shallot) and herbs (here, watercress). Adding to interest in this recipe is cream-style corn; the crust is made of crushed onion melba toast.
Ingredients
Vegetable cooking spray
1/4 cup finely crushed onion-flavored melba toast rectangles, divided
3 tablespoons minced shallots
2-1/2 cups packed trimmed watercress
1/4 teaspoon freshly ground pepper
2 cups part-skim ricotta cheese
3/4 cup (3 ounces) shredded Provolone or Gruyère cheese
1/4 cup all-purpose flour
1/4 teaspoon salt
1 can (8-3/4 ounces) low-sodium cream-style corn
2 eggs
Preparation
Preheat oven to 325°F.
Coat the bottom of an 8-inch springform pan with cooking spray; sprinkle with 2 tablespoons melba toast crumbs, and set aside.
Coat a medium-size non-stick skillet with cooking spray; place over medium-high until hot. Add shallots; sauté 1 minute. Add watercress and pepper; sauté 2 minutes.
Position knife blade in a food processor bowl; add remaining 2 tablespoons melba toast crumbs, ricotta cheese, Provolone or Gruyère cheese, flour, salt, creamed corn and eggs. Process until smooth. Add watercress mixture; process until chopped.
Pour mixture into prepared springform pan. Bake for 1 hour and 15 minutes or until almost set. Remove from oven, and cool 15 minutes. Cover and chill 2 hours. Serve chilled or at room temperature.
Recipe and photo courtesy Wisconsin Milk Marketing Board. All other material © copyright 2005- 2015 Lifestyle Direct, Inc. All rights reserved. Images are the copyright of their respective owners.