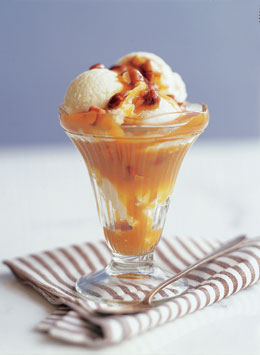 This recipe creates a luscious sundae with chocolate, pecans and caramel. Photo courtesy National Honey Board.

Last Updated July 2010

Honey Ice Cream Recipe
With Chocolate Chunks, Pecans & A Caramel Swirl
CAPSULE REPORT: This is Page 3 of four pages of recipes. Click on the black links below to see other recipes.
Read more about honey in THE NIBBLE's Honey Section—including informative articles about honey and product reviews. For more information on cooking with pure honey, visit Honey.com. To find a locally produced or special honey variety, visit HoneyLocator.com.
Honey Ice Cream Menu
Chocolate-Pecan Honey Ice Cream Recipe With Caramel Swirl
Not a chocolate ice cream, but honey ice cream with chopped pecans and chocolate bits mixed into it. You can make your own caramel sauce or buy one. We think the caramel sauce from The King's Cupboard—a NIBBLE Top Pick Of The Week—is outstanding. It's available in six flavors, each one yummier than the next.
Ingredients
4 large egg yolks
2/3 cup pure honey
1/8 teaspoon salt
3 cups half-and-half
1/2 cup toasted pecans, coarsely chopped
1/2 cup dark chocolate, coarsely chopped
1/2 cup caramel sauce
Preparation
Whisk together the eggs, honey and salt in a medium bowl; set aside. Bring the half-and-half to a full simmer in a medium saucepan.
Add 1 cup of the simmering cream mix to the egg-honey mixture while whisking (to avoid scrambling the eggs); then return the egg and cream mixture to the saucepan. Simmer over a medium-low heat, stirring constantly until the custard thickens enough to coat a spoon and the thermometer reads 170°F to 175°F, about 4 minutes (do not boil).
Strain into a clean bowl and allow the steam to escape, before covering and chilling until cold (at least 3 hours and up to 1 day).
Process the custard in an ice cream maker according to the manufacturer's instructions. During the last 2 to 5 minutes, add the pecans and dark chocolate.
Transfer to a bowl or tub and stir in the caramel sauce. Freeze until firm, at least 3 hours, and up to 3 days.

Continue To Page 4: Peach Ice Cream
© Copyright 2005- 2015 Lifestyle Direct, Inc. All rights reserved. Images are the copyright of their respective owners.