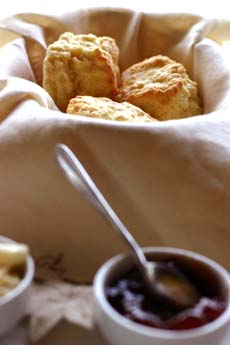 STEPHANIE ZONIS is a contributing editor.


June 2006
Updated December 2008

The Best Strawberry Jams & Preserves
Page 5: Taste Test Methodology
This is Page 5 of a seven-page article. Click on the black links below to visit other pages.
Taste Testing Methodology: How We Evaluated The Jams
It should be noted that autumn and winter, when we researched this story, are not ideal times of year to conduct a tasting of this type. While many of the largest producers (those who supply chain grocery stores) will use whatever berries they can get to produce their jams, smaller-scale preserve makers tend to be more selective about their fruit. Hanover Homemades, for example, will only use one variety of strawberry to make their preserves, and that berry doesn't come into season until May. The amount of jam these companies can make in a season is limited, so some were sold out when contacted about this article.
For the purposes of this review, all jams and preserves were tasted at room temperature. No bread or other "vehicle" was used for tasting; jams and preserves were tasted from stainless steel spoons, and water was used to clean the palate between tastings. A jar was opened, stirred for a few seconds (where possible—some were too stiff to allow this), then tasted. About three minutes were allowed to elapse after palate-cleansing and before the next jam was tasted; no more than five preserves were tasted at one sitting.
The number of companies that make a strawberry or strawberry-based jam is almost overwhelming. A list of 134 producers was developed based on awareness and additional research, and companies were asked to send only strawberry or strawberry-based jams/preserves. Of those who complied with our request, most sent at least one jar of each type of strawberry or strawberry-based fruit spread they produce. In our travels during the time this article was being researched and written, several additional jars of strawberry or strawberry-based jams were purchased.
A total of 88 jams and preserves were evaluated. Many were good, but only those deemed most noteworthy of sending for are listed below, in alphabetical order. Jams or preserves are listed as categorized by the manufacturer, although some of the "jams" are clearly preserves, and vice versa. In some instances, manufacturers that make multiple strawberry or strawberry-based jams/preserves have only one product on our recommended list. When this occurs, it may be that other products were unavailable, or it may reflect the opinion that their other products weren't as special. Remember that it is always worth forming your own opinion of a food product!
Continue To Page 6: The Best Strawberry Jam
© Copyright 2005-2015 Lifestyle Direct, Inc. All rights reserved. Images are the copyright of their respective owners.