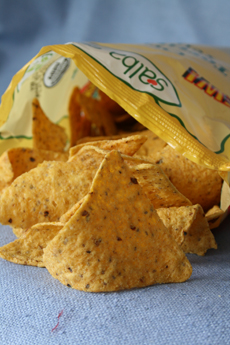 Pass the chips! These chips are seasoned with Salba (chia), the highest vegetable source of omega-3—eight times higher than salmon! Photo by Hannah Kaminsky | THE NIBBLE.
KAREN HOCHMAN is Editorial Director of THE NIBBLE.

Salba Smart Tortilla Chips, Pretzels & Salsa
Page 3: Healthy Snacks That Taste Great
Organic & Kosher

This is Page 3 of a three-page article. Click on the black links below to visit other pages.
Products
The product line is certified USDA organic, kosher (OU-parve) and is gluten free and non-GMO. It has no trans fat.
Tortilla Chips

We tasted the blue and yellow tortilla chips. Both were excellent; good corn flavor and just the right amount of salt. No one crunching happily away would know that the extra zingy taste comes from Salba. Each 1-ounce serving has 400mg of omega-3, 140 calories, 6g total fat, 75mg sodium, 19g total carbohydrate, 2g protein.

Pretzels

Available in both sticks and twists, the flavor of Salba comes through a bit more in the pretzels. We demolished the whole bag. Each 1-ounce serving has 210mg of omega-3, 110 calories, 1.5g total fat, 330mg sodium, 21g total carbohydrate, 2g protein.

We've got the blues—and love them.
Salsa
The tasty salsa errs only in that it's a bit on the thin side (see photo on Page 1). We'd ask the company to rethink that going forward (and while they're at it, a spiffier label design—the current one looks "old-fashioned health food store"). The salsa is made in Mild, Medium and hot, but the Mild is very mild. People who enjoy most mild salsas should start with the Medium. Each two-tablespoon serving has 160mg of omega-3, 12 calories, 0g total fat, 126mg sodium, 2g total carbohydrate, 0g protein.
Enjoy Salba Smart smart snacking.
Salba Smart

Pretzels, Tortilla Chips & Salsa

Certified USDA Organic*
Certified Salba Whole Food
Certified Kosher (Parve) By OU
Certified Non GMO

Organic Tortilla Chips In
Blue Corn, White Corn &
Yellow Corn
8-Ounce Bag
$3.99
Bite Size Organic Tortilla
Chips
0.7oz (100-Calories)
$0.99
Organic Salsa in Mild,
Medium and Hot
12-Ounce Jar
$5.69
Pretzels: Sticks Or
Thin Twisted
7-Ounce Bag
$3.99
All products contain 0g of trans fats, and are gluten free (except pretzels and tortillas).
The company also sells Whole Grain Salba, Premium Ground Salba and All Natural Whole Wheat Tortillas. Other companies have licensed the name for other products, such as energy bars.
Purchase at Wegman's Whole Foods Market, Wild Oats, Vitamin Cottage and natural foods stores.
SalbaSmart.com
Recent Articles From Our NutriNibbles™ News Feed:
Subscribing notifies you whenever there are
new additions to the NutriNibbles™ section.

Subscribe to THE NIBBLE™ NutriNibbles™ by Email
© Copyright 2005-2015 Lifestyle Direct, Inc. All rights reserved. Images are the copyright of their respective owners.