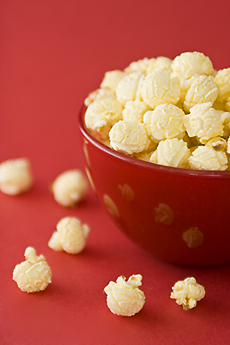 Sure, Gary Poppins will send you fine plain popcorn. But with 22 flavors, it's time to spread your wings and give gourmet flavored popcorn a try. Photography by Saidi Granados.
EMILY CHANG is an intern at THE NIBBLE.

Gary Poppins Flavored Gourmet Popcorn
Page 2: Cheese Popcorn


This is page 2 of a 5-page article. Click on the black links below to view the other pages.
Cheese Popcorn Flavors
With Gary Poppins, there is no generic "cheese popcorn." Here, cheese popcorn gets the gourmet treatment (and we're not talking Fiscalini Farmstead's award-winning Cheddar, a NIBBLE favorite).
No, cheese corn lovers: At Gary Poppins, you're the boss. And since the boss can have whatever he or she wants, we suggest you try three of these four flavors.
Cheddar Popcorn
This is not your ordinary cheese popcorn. Deep Cheddar cheese flavor penetrates every bite. This is where Gary Poppins' softer texture is at an advantage: The Cheddar flavor asserts itself over what would be the "crunch," and the result is cheesy deliciousness.
Cheddar Bacon Ranch Popcorn
No bacon bits here, so go ahead and marvel at the bits of real bacon in this popcorn. You're in for some pretty strong flavors: Although Cheddar and bacon clearly dominate, buttermilk in the ranch seasoning adds a nice roundness that helps boost this variety to star status. Any bacon and cheese fan will agree with Candide, that Cheddar Bacon Ranch represents the best of all possible worlds.
White Cheddar Popcorn
Leaving the kernels almost their original white color, this corn delivers mild white Cheddar bite without the bang of the regular Cheddar. But mild is the operative word; those who desire a more powerful cheese flavor should reach for the regular Cheddar instead.
White Cheddar Jalapeño Popcorn
The white Cheddar works to an advantage here. Of the more adventurous flavors, White Cheddar Jalapeño is sure to please fire-chasers. The generous sprinkling of green jalapeño flecks is mellowed by the mild cheese, resulting in a medium-hot spice level that delivers heat without rendering one's taste buds numb.
Continue To Page 3: Chocolate Popcorn Flavors
© Copyright 2005-2015 Lifestyle Direct, Inc. All rights reserved. Images are the copyright of their respective owners.