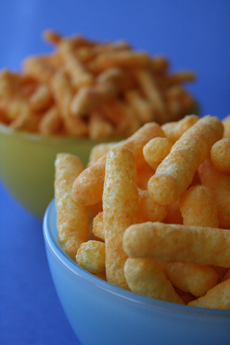 Michael Season's Cheddar Cheese Puffs (front) and Chili Cheese Puffs (rear) offer real cheese flavor with reduced fat. Photography by Daniela Cuevas | THE NIBBLE.
KAREN HOCHMAN is Editorial Director of THE NIBBLE.

Michael Season's Reduced Fat Cheese Puffs
Tastier, Healthier, Baked Cheese Puffs, Curls, Pops & Multigrain Ripple Chips
Page 1: Overview

CAPSULE REVIEW: Love chips, but want to cut back on the fat and the calories? Michael Season delivers a line of baked cheese snacks that have fewer calories, less fat, and taste even better than his regular line. They're also wheat-free, gluten-free, certified kosher and all-natural—no preservatives, no hydrogenated oils, no MSG, and made with organic grains. This is Page 1 of a three-page article. Click on the black links below to visit other pages.
Overview
Michael Season heard the call to organic foods more than 20 years ago. He tried his hand at organic farming long before it was hot, because he wanted his family to be able to eat foods free of chemicals and additives. He developed one of the largest natural foods distributorships in the U.S., and then began to produce "better for you" snack foods—reduced fat and lowfat potato chips. They promise:
All-natural ingredients
No preservatives
No artificial colorings or flavorings
No GMOs (genetically modified ingredients)
No MSG
No hydrogenated or partially hydrogenated oils
Kosher certification
We had the opportunity to taste the Season's line of cheese puffs and cheese curls—the regular, "Ultimate," line and the reduced fat, "Baked" line, which have half the fat (or more) of traditional puffs and curls—and are wheat-free and gluten-free to boot.
Whether digging into the Ultimate or Baked Line, these snacks are delicious. Where one bite of a major supermarket brand of cheese puff or curl tastes like artificial food, here, these all-natural snacks taste just like that: all natural. Light and crunchy, they're made with real cheese, not an imitation cheese-flavored powder. That being said, you still end up with orange-powdered fingers. It must be part of the ritual.
Snack along with us as we review these noteworthy, cheesy, crunchy snacks.
Continue To Page 2: Reduced Fat Cheese Puffs, Cheese Curls & Cheese Pops
| | |
| --- | --- |
| Michael Season's "Ultimate" line of Cheese Curls and Cheese Puffs offered snackers a higher-quality alternative to mass-marketed snacks. | Michael Season's Baked line of Cheese Curls and Cheese Puffs reduces the fat in those snacks by as much as 65%. |
Recent Articles From Our NutriNibbles™ News Feed:
Subscribing notifies you whenever there are
new additions to the NutriNibbles™ section.

Subscribe to THE NIBBLE™ NutriNibbles™ by Email
© Copyright 2005-2015 Lifestyle Direct, Inc. All rights reserved. Images are the copyright of their respective owners.