Michael Season's Cheese Puffs & Other Reduced-Fat Cheese Snacks
Page 3: Reduced Fat Multigrain Chips

This is Page 3 of a three-page review. Click on the black links below to visit other pages.
Baked Multigrain Reduced Fat Chips
Perhaps our favorite product, these all-natural, gluten-free chips in Original, Cheddar and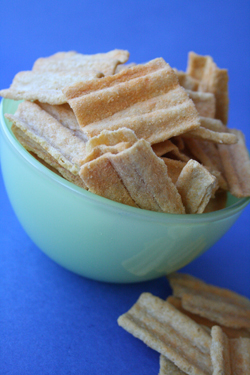 Honey Chipotle offer lots of crunch, good grain flavor and 12g of whole grains per serving—one quarter of your daily requirement of 48g.
The chips are made of whole grain corn meal and rice meal, oat meal, oat fiber, modified corn starch, black bean powder, ground sunflower seeds, salt, sugar, and sunflower oil and/or corn oil. The Cheddar flavor adds rice flour, Cheddar cheese and a variety of flavorings.
Photo: Original Multigrain Chips.
The chips have a slight sweetness from the added sugar that is pleasant, but is it really necessary in a salty snack? Our Miss America platform is: Get rid of hidden sugar in processed foods. We don't need it, and it isn't good for us. Having said that, we admit that we polished off the entire bag of sweet-and-hot Honey Chipotle. Would we have liked them just as much without the sugar and honey? Certainly.
We like all flavors, with a preference for the Original; if you like a kick, as we do, add the Honey Chipotle as a close runner up (the fire lingers nicely). Interestingly, the Cheddar tastes not like Cheddar, but like sour cream—which is fine with us. And it leaves no orange fingers! Do expect a modest powder finger coating from Honey Chipotle.
MICHAEL SEASON's Baked MULTIGRAIN CHIPS

Cheddar, Honey-Chipotle & Original

Certified Kosher (Dairy) By KOF-K
Gluten Free

The chips are available at fine food stores nationwide.

The online store currently currently does not sell these products. If you can't find them locally, call 1.630.628.0211 or write info@seasonssnacks.com.




*Prices and product availability are verified at publication but are subject to change. Shipping is additional. These items are offered by a third party and THE NIBBLE has no relationship with them. This link to purchase is provided as a reader convenience.
Go To The Article Index Above
Recent Articles From Our NutriNibbles™ News Feed:
Subscribing notifies you whenever there are
new additions to the NutriNibbles™ section.

Subscribe to THE NIBBLE™ NutriNibbles™ by Email
© Copyright 2005-2015 Lifestyle Direct, Inc. All rights reserved. Images are the copyright of their respective owners.