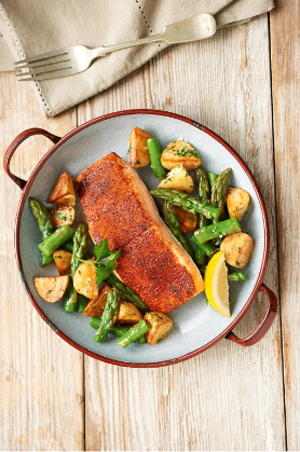 Buy a package of Rebel Fish salmon and you can have this blackened salmon fillet ready to eat in 90 seconds. It's true, and it's delicious. See our review.
Need fruits that are out of season? Here's our list of substitutes. Perhaps the most surprising: substituting winter's persimmons for summer's tomatoes. Take a bite.

Pisco Sour is the national cocktail of Peru, made from pisco, the national spirit. Celebrate by making yourself a Pisco Sour with this recipe. See all the February food holidays.



Make ice cream the way it was first made 4,000 years ago: with fresh snow (but no jimmies). You can do it in 3 minutes. Check it out.
This Week's Features
We love cookies; that's why we created a delicious glossary of them. How many types of cookies have you had?

It couldn't be easier to turn Frosty from cold snow to hot pizza. Take a look. More videos.

Make them cocktails or mocktails: warm drinks with winter spices. Here's how to make them.

Different types of beers benefit from different shaped glasses, engineered to bring out the special attributes of the beer. The scoop.

Mankind has been around for 200,000 years, but has only had soup for the last 8,000. Why? The scoop.

There is no generic "Swiss cheese" in Switzerland. What Americans call "Swiss" is Emmental. Take a bite.
Most Popular Articles
More Of Our Most Popular Articles