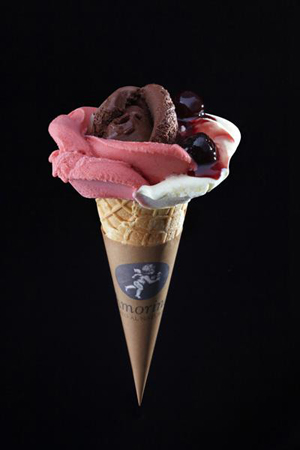 There's a new gelato in town—and it's the best we've had in this country. Maybe that's because it's shipped over from Italy! See our review.
Fresh blueberries won't be yummier or more inexpensive until next August. So take advantage and make these delicious recipes. Take a bite.

Invented at the turn of the 20th century—before the cone—the ice cream sandwich made the frozen treat portable! Take a look at this gourmet recipe. See all the August food holidays.



Why not—we've been enjoying sushi with fresh mango for years. Here, the watermelon is paired with crab. Check it out.

This Week's Features
Are you a bacon lover? If so, how much of one? Otherwise stated, how many types of bacon have you had?

Learn some tricks, as well as the difference between icing and frosting. Take a look. More videos.

We didn't realize how much we missed sangria until it was served to us at a dinner party. Here's how to make it.

Grilling quesadillas adds the luscious taste of smoke. This grill basket is only $7.95. Get one!

American eating changed when ground beef was placed between sliced bread. The scoop.


How to enjoy ricotta for breakfast, lunch and dinner: This versatile fresh cheese is not just for ravioli and cannoli. Take a bite.
Most Popular Articles
More Of Our Most Popular Articles