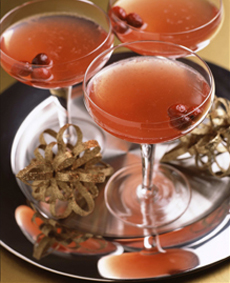 Make festive cocktails this holiday season. Photo courtesy Tequila Don Julio.

Recipe For Cranberry Tequila Cocktail
With Clove-Infused Agave Nectar
If you're looking for a cocktail to spread some holiday cheer, look no further than this festive cranberry tequila cocktail. The recipe, courtesy of Brian Van Flandern, Tequila Don Julio Global Brand Ambassador, is made with a clove-infused agave nectar. Not familiar with agave nectar? Find out more about this low-glycemic sweetener. If you're looking for even more cranberry cocktails, we have additional recipes in our Cocktails & Spirits Section.
Cranberry Tequila Cocktail
While any premium tequila will work for this recipe, Brian Van Flandern recommends using Don Julio Reposado Tequila. Ideally, you'll want to serve this cocktail in small wine glasses like the ones in the photo at left.
Ingredients Per Cocktail
1-1/2 ounces premium tequila
1 ounce fresh squeezed unsweetened cranberry juice
1/2 ounce fresh squeezed lime juice
1/2 ounce agave nectar
Fresh cloves
1/2 ounce sparkling dessert wine
Ice
Cranberries
Preparation
Infuse agave nectar with cloves by allowing cloves to sit in agave nectar for five minutes, then remove.
Combine tequila, cranberry juice, lime juice, infused agave nectar and sparkling wine in a cocktail shaker with ice. Cover and shake well.
Garnish with cranberries.
Recipes are copyright as noted above. All other materials © Copyright 2005- 2015 Lifestyle Direct, Inc. All rights reserved. Images are the copyright of their respective owners.