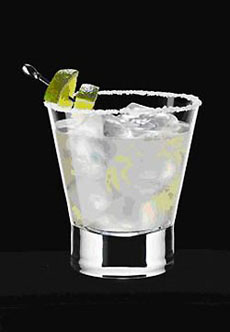 You can serve a Margarita in almost any glass. Photo courtesy Herradura Tequila.
April 2007
Last Updated August 2010

Margarita Recipes
A Smokin' Margarita & A Smokin' Maria
This is Page 2 of a three-page article with popular Latin cocktail recipes; here, a Smokin' Margarita and Smokin' Maria. The Smokin' Maria is a Bloody Mary made with tequila instead of vodka. Click on the black links below to visit other pages.
Smokin' Margarita Recipe
Per cocktail:
Ingredients
2 ounces El Tesoro Silver Tequila*
5 ounces Freshies Fresh Lime Margarita Mix (or other Margarita mix)
½ ounce Cointreau
½ ounce top-quality mezcal (try Del Maguey Single Village Mezcal [Chichicapa or Minero])
Ice cubes
*You can use any brand of tequila you have. El Tesoro Silver, in particular, has hints of citrus that blend well in Margaritas.
Preparation
Shake tequila, Cointreau and Freshies mix over ice. Strain into a frosted martini glass.
Float the mezcal on top. Garnish with lime.
The Difference Between Tequila & Mezcal
Some people think they are the same spirit, but they are as differentiated by the production process and taste as American, Canadian, Irish and Scotch whiskeys.
While both spirits derive from varieties of the agave plant (known in the indigenous Nahuatl language as mexcalmetl), Tequila is made from only agave tequilana Weber, the blue agave variety. Mezcal can be made from five different varieties of agave.
Tequila is double-distilled (a few top brands are triple-distilled to remove the maximum amount of impurities), while mezcal is often only distilled once.
Most mezcal is made in the Mexican state of Oaxaca; Tequila is produced in the northwestern state of Jalisco and a few nearby areas. Almost every village in the state of Oaxaca has its producers of local mezcal. Rare mezcals that are difficult to produce are made in tiny quantities in remote villages.

Agave. Photo courtesy of Del Maguey mezcal.
A historical note: The Spanish Conquistadors learned the art of distillation from the Moors in 800 A.D., and Cortez and his troops brought the technology to Mexico in 1519. Shortly thereafter, the Aztecs began to distill agave into mezcal. Agave is not a cactus: It is a succulent, and was once classified in the same family with lily and aloe. Today it is classified in its own family, Agavaceae, which consists of more than 400 species.
a or Minero])
Smokin' Maria
Ingredients
2 ounces top-quality mezcal (try Del Maguey Single Village Mezcal [Chichicapa])

3 ounces Freshies Original Bloody Mary Mix

2 ounces Freshies Habañero Hot Bloody Mary Mix or other hot Bloody Mary mix†

Celery or fennel stalks for garnish
If you can't find a hot Bloody Mary mix, use 5 ounces of regular Bloody Mary mix and add a tablespoon of habaneros or jalapeños in adobo sauce, available at most supermarkets.
Preparation
Shake ingredients together. Pour into a highball glass with ice.

Garnish with celery or fennel stalk.
Continue To Page 3: Mojito Recipe
© Copyright 2005-2015 Lifestyle Direct, Inc. All rights reserved. Images are the copyright of their respective owners.