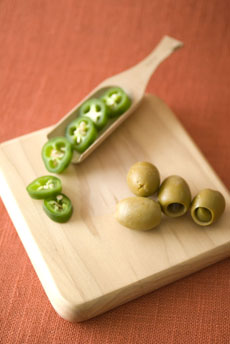 Jalapeno-stuffed olives are just one of the delicious varieties from Sonoma Farm. Photography by Corey Lugg | THE NIBBLE. Styling by Lauren LaPenna.
KAREN HOCHMAN is Editorial Director of THE NIBBLE.

Sonoma Farm Olives
Gourmet Stuffed Olives
CAPSULE REPORT: The fruit of the olive tree Olea europaea, has been a major component of the agriculture and cuisine of the Mediterranean since man evolved from hunter-gatherer to farmer and began to cultivate it—around 8,000 B.C.E. Today, olives are grown worldwide, wherever sunny days and dry climates prevail. While Spain remains the world's largest producer of olive oil (it supplies one-third of the world's olive oil, Italy one-fourth, and Greece one-fifth), Australia, New Zealand and California produce fine artisan oils—climates and soils that produce good wine also foster good olive oil. Sonoma Farm began as a purveyor of California extra virgin olive oil, and now offers a full line of related products including delicious table olives. This is Page 1 of a two-page article. Click on the black links below to visit other pages.
Overview
In the "cradle of civilization" of the Middle East, wheat, followed by grape vines and olives, were the first crops to be cultivated, from about 8000 B.C.E. onward. Olives were pressed for their oil—culinary, medicinal and lamp oil—and eaten at the table. But first, the ancients had to figure out how to make the fruit palatable by curing: The olive fruit is naturally is very bitter and needs to be fermented, or cured, with brine (later, lye became employed used as well).
Olives are high in monounsaturated fat, iron, vitamin E, and dietary fiber. Naturally ripened black olives contain the antioxidant anthocyanin (canned black olives of the supermarket variety are artificially ripened and don't have the same antioxidant value—or flavor).
Stuffed Olives

Our favorite products are the stuffed olives. We've tried many a stuffed olive and found the stuffings to ride the continuum of hard to waxy to inedible. Sonoma Farm's are as good as if you stuffed them yourself. The options include green olives stuffed with:

Blue Cheese
Feta With Oregano
Jalapeño (infused with a wee hint
of tequila)
Parmesan Romano

The cheeses are of fine quality, and the jalapeño is just right—not too hot, such that this taster, who normally enjoys mild salsa, got a rise from them. They're better than anything we can find locally.

Delicious with a cocktail, these are "special occasion" olives to pull out to impress guests, or as an affordable indulgence.




Parmesan-Romano stuffed olives.
Serve them with a sandwich, a burger, steaks and chops, take a skewer and a slice of prosciutto and melon cube (or other favorite ingredients) and turn them into fancy hors d'oeuvres.
Olive Mixes
While we have access to a high-quality, extensive olive bar just a few blocks away, Sonoma Farm has some quality varieties for those who don't have the same good fortune, or for people who have olive-loving friends and need some good gift options. They include:
Garden Medley: olives, carrots, red pepper and cauliflower

Hot Olive Antipasto: for those who like a bit of heat

Late Harvest Olives: four types of California olives packed in red wine

Olive Antipasto: green olives with celery and pimentos
We especially enjoyed the Garden Medley and Olive Antipastos, to spruce up green salads, sandwiches and omelets.
Continue To Page 2: More Olive Varieties
© Copyright 2005- 2015 Lifestyle Direct, Inc. All rights reserved. Images are the copyright of their respective owners.