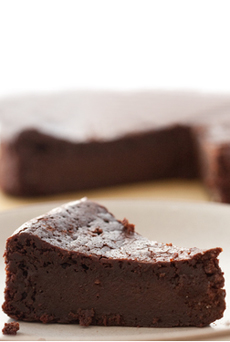 A chocolate cake for a stout-hearted man—or woman. Photo courtesy Recchiuti Confections.

Chocolate Stout Cake
A Flourless Cake From Michael Recchiuti
If you love stout or other beer, this cake may be the one for you. The chocolate stout cake, developed by chocolatier Michael Recchiuti, is very moist and chocolatey. Although it's a flourless cake, it's not too rich or heavy. Instead of Guinness, this recipe uses chocolate stout for a more interesting complexity and flavor.
The cake can be served ungarnished or with a side of unsweetened whipped cream. Certainly, serve small glasses of chocolate stout with it.
If you love chocolate stout as much as we do, also consider this chocolate stout ice cream recipe, which you can use to make a more casual chocolate stout float.
Another idea: Along with the cake, have a chocolate stout tasting: Buy different brands of chocolate stout and serve small portions to everyone. Discuss the different flavors and vote for your favorites. (And invite us—it sounds like a great evening!)
Here's a second recipe for chocolate stout cake. This one has flour and is made in a bundt mold.
And take a look at this chocolate whiskey cake.
Serves 8-12
Ingredients
2 ¼ sticks (255g) unsalted butter, softened
9 ounces quality dark chocolate, coarsely chopped
3 ounces unsweetened dark chocolate, coarsely chopped
6 extra-large eggs
¾ cup (150g) granulated cane sugar
½ cup (125g) chocolate stout
Directions
Preheat the oven to 325°F.
Grease a 9-inch cake pan or ring and cut a circle of parchment paper to fit the bottom.
Using a double boiler, melt the chocolate in a stainless steel bowl. Set aside.
Place the eggs and sugar into the bowl of a stand mixer fitted with the whisk attachment. Using the same double boiler used for melting the chocolate, whisk the eggs and sugar by hand until warm to the touch.
Place the bowl of eggs on the mixer and beat at medium speed until the eggs have just about tripled in volume. This stage is also referred to as the ribbon stage. If you pull out the whisk and drizzle the whipped eggs on top of themselves the lines should not sink back into the mixture too quickly.
While the eggs are whipping, bring the stout to a boil. Stir into the melted chocolate.
Once the eggs have reached the ribbon stage, turn the speed of the mixer down and add the chocolate mixture.
Be sure that your butter is very soft, but not melted. If the butter is melted the texture of the cake will be grainy. Add the butter to the eggs and chocolate and mix until just combined.
Pour the cake batter into the prepared pan, filling it a little more than half way. Bake on the medium rack of the oven for 30 minutes or until a paring knife or skewer removed from the cake comes out with a few crumbs.
Remove to a cooling rack and be ready to serve once it's at room temperature.
Plate and serve plain or with a side of unsweetened whipped cream. Or, how about a side of chocolate stout ice cream?

For more desserts, read Chocolate Obsession: Confections and Treats to Create and Savor, by Michael Recchiuti and Fran Gage.
Recipe © Copyright Michael Recchiuti. Other material © Copyright 2005- 2015 Lifestyle Direct, Inc. All rights reserved. Images are the copyright of their respective owners.