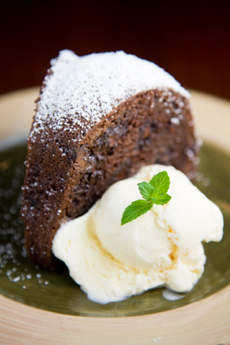 For a lighter dessert, leave the top plain or sprinkle with confectioner's sugar. For a richer dessert, add a chocolate glaze. Vitaphoto | IST.
March 2009
Last Updated February 2010

Recipe: Chocolate Stout Cake
An Easy Bundt Cake With Guinness Or Your Favorite Chocolate Stout
CAPSULE REPORT: Stout and chocolate pair beautifully in this bundt cake, which can be enjoyed as dessert or a snack with a glass of chocolate stout. This is Page 1 of a two-page article. Click on the black link below to visit Page 2.
Chocolate & Stout
While numerous chocolate cake recipes call for brandy or liqueur, this one turns to the beer family, specifically to stout, the darkest of beers. Stout, the heaviest style of beer, normally has chocolate-coffee flavors that are achieved by brewing the beer with barley that has been dark-roasted to the point of charring (think of espresso beans, compared to a medium-roast coffee).
There is a sub-category of stout called chocolate stout that uses different malts for an even more pronounced chocolate flavor. These days, some brewers add actual chocolate into the brew, or brew the beer over cacao beans, or both (Sam Adams brews its chocolate bock beer, a NIBBLE Top Pick Of The Week, over Scharffenberger chocolate nibs!). U.S. craft brewers Brooklyn Brewery, Harpoon and Rogue Ales make chocolate stout, as does Young's from the U.K. In fact, according to BeerAdvocate.com, there are more than 200 chocolate stouts, porters, beers and ales available in the U.S. (see our Beer Glossary for the differences in beer styles).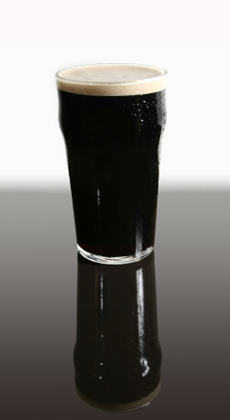 Both regular stout and chocolate stout pair deliciously with chocolate recipes (see our Chocolate Stout Float recipe). While you can opt to save the money and bake the cake with Guinness rather than an artisan brew (Guinness is brewed in Dublin, is one of the world's most popular beers and is generally available in most supermarkets that carry international beers), feel free to use your favorite chocolate stout or regular stout. The recipe only calls for 1-1/4 cups of stout, so you'll have a little nip left over to enjoy while you're baking.
And of course, enjoy your slice of Chocolate Stout Cake with a glass of chocolate stout—you and your guests will find this to be a most delightful dessert or snack.
Photo of stout by Dan Hauser | IST.
Continue To Page 2: Cake Recipe
Recipe © Nicole Rees. Other material © Copyright 2005- 2015 Lifestyle Direct, Inc. All rights reserved. Images are the copyright of their respective owners.