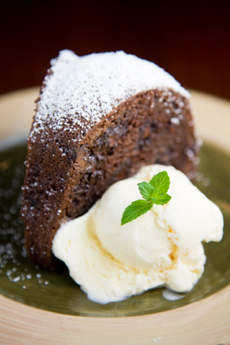 For a lighter dessert, leave the top plain or sprinkle with confectioner's sugar. For a richer dessert, add a chocolate glaze. Vitaphoto | IST.

Chocolate Stout Cake
Page 2: Recipe
This is Page 2 of a two-page article. Click on the black link below to visit Page 1.
This chocolate stout cake recipe is courtesy of Nicole Rees, from her book, Baking Unplugged. Nicole points out that the molasses in the recipe makes the cake very moist, so the cake will keep for several days and is great for gift giving. She also suggests these variations:
Gingerbread lovers can stir in gingerbread spices, 1/2 to 1 teaspoon of cinnamon, clove, ginger and/or nutmeg, depending on your preferences. You'll end up with something resembling chocolate gingerbread.
The cake is lovely served plain or with a dusting of powdered sugar; a glaze of chocolate ganache adds extra richness.
Our personal favorite was a side of vanilla or rum raisin ice cream.
For garnish ideas, see our Garnish Glamour article.
As always, we like to use the freshest and best ingredients in any recipe. Here, we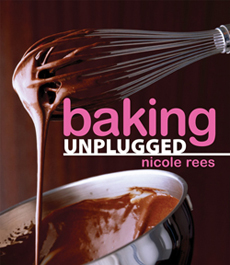 chopped up a 70% Valrhona chocolate bar and used Dagoba cocoa powder. We also tossed out the remaining third cup of a jar of dark molasses that had been in the pantry for several years in favor of a fresh bottle from Whole Foods that smelled and tasted a lot better.
Ingredients
Cake
1-1/4 cups stout or chocolate stout (do not include foam when measuring)
1/3 cup dark molasses
1-1/4 cups unsalted butter, soft
1-1/2 cups packed light brown sugar
3 large eggs, at room temperature
1-2/3 cups all-purpose flour
3/4 cups unsweetened natural cocoa powder, plus more for the pan
1-1/2 teaspoons baking powder
1/2 teaspoon baking soda
1/2 teaspoon salt
6 cup semisweet chocolate, very finely chopped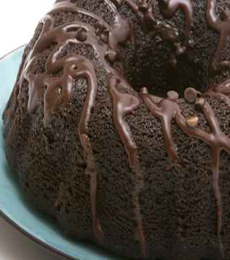 Chocolate Glaze (Optional)
3/4 cup heavy cream
6 ounces semisweet chocolate, chopped
Photo of bundt cake © MAXFX | Fotolia.
Preparation
Cake
Preheat oven to 350°F.
Butter a 12-cup Bundt pan and dust with cocoa powder. Tap out excess cocoa.
In a small saucepan over high heat, bring the stout and molasses to a simmer. Remove from the heat; reserve.
In a large bowl, beat together the butter and brown sugar until smooth, about 2 minutes. Whisk in the eggs, one at a time, until each is incorporated. Continue whisking until the batter is smooth, about another 30 seconds.
In another bowl, whisk together the flour, cocoa, baking powder, baking soda and salt. Add the flour and stout mixtures alternately to the butter mixture, beginning and ending with the flour and stirring to incorporate each addition, about 30 seconds per addition. Stir in the chopped chocolate.
Spread the batter into the pan, rapping it on the counter to level and eliminate any air pockets. Bake for 45 to 50 minutes or until a skewer inserted near the center comes out with only moist crumbs clinging. Cool in the pan on a wire rack for 20 minutes. Invert the cake onto the rack to unmold. Let cool until just barely warm.

Chocolate Glaze
Bring the cream to a boil in a small saucepan over high heat. Remove the pan from the heat; add the chocolate. Let stand for 1 minute and then whisk until smooth.
Cool for 5 minutes and then drizzle over the cake.
Go To Page 1: Chocolate & Stout
Recipe © Nicole Rees. Other material © Copyright 2005- 2015 Lifestyle Direct, Inc. All rights reserved. Images are the copyright of their respective owners.