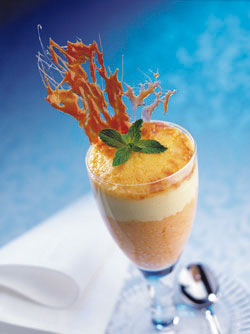 Sweet potatoes can be used to make a scrumptious crème brûlée. Photo courtesy of the North Carolina Sweetpotato Commission.

Recipe: North Carolina Sweet Potato Crème Brûlée
With Decorative Sugar Garnish
There's nothing like the rich, thick texture of crème brûlée, but adding sweet potato flavor to it gives it that extra little something special. Top it off with the optional golden sugar garnish to get a classy dessert to serve to each dinner guest in his or her own ramekin. Yields 10 servings.


North Carolina Sweet Potato Crème Brûlée

Ingredients
2 large sweet potatoes
1 3/4 cups sugar, divided
1/2 cup sour cream
2 tablespoons fresh lemon juice
3 cups whipping cream
1 vanilla bean
1 tablespoon vanilla
12 egg yolks
Sugar for sprinkling and garnish
Preparation
Bake sweet potatoes in center of 325° oven until tender, about 1 hour.
Peel sweet potatoes and puree until smooth.
Combine sweet potato puree with 1/4 cup sugar, sour cream and lemon juice. Mix well.
Butter the insides of 10 (7-ounce) ramekins and sprinkle with sugar.
Spoon 1/4-inch layer of sweet potato mixture (about 3 tablespoons) into ramekins. Set ramekins in 9 x 13 x 2-inch baking dish and set aside.
In saucepan, combine whipping cream, 3/4 cup sugar and vanilla bean. Bring to a boil, stirring occasionally.
Remove from heat; and stir in vanilla.
Mix egg yolks with remaining 3/4 cup sugar and blend hot cream into egg yolk mixture. Fill ramekins with egg mixture.
Place in center of oven. Pour enough hot water into baking dish to come halfway up sides of ramekins. Bake 55 minutes or until knife inserted near the center comes out clean.
Remove ramekins from water to a wire rack and cool. Chill in refrigerator until ready to serve.
To serve, spoon into stemmed glasses and garnish with golden sugar pieces.
For The Decorative Sugar Garnish
Heat additional 1/2 cup sugar in heavy small skillet over medium heat until melted.
Drizzle sugar onto lightly buttered baking sheet with a fork and let stand until hardened. Break hardened sugar into large pieces and, if desired, place under broiler to brown sugar.
Top crème brûlée with hardened sugar pieces.
Go To The Main Sweet Potato Dessert Recipe Page

Recipe and photo courtesy of the North Carolina SweetPotato Commission. Other materials © Copyright 2005- 2014 Lifestyle Direct, Inc. All rights reserved. Images are the copyright of their respective owners.