This is Page 3 of a 10-page review of hot chocolate and cocoa brands. Click on the black links below to visit other pages.
Note: "Processed with alkali" or a similar term denoting alkali in the ingredients list means that Dutched cocoa was used, resulting in a milder-flavored chocolate beverage. See the glossary in Part 1 for the difference between Dutched and natural cocoa.
Hot Cocoa Brands A To C
Ah!Laska Organic Cocoa (Chocolatey Chocolate Mix). A very mild chocolate flavor with a little sweetness to it. First ingredient: organic evaporated cane sugar. Entire ingredient list: organic evaporated cane sugar, Organic Valley fat free dry milk, organic cocoa, organic rice syrup solids, organic vanilla powder, carrageenan, xanthan gum. Sodium content: 20 mg/serving. A light milky cocoa color with similarly light chocolate aroma. Seven ounces of skim milk was used to make this beverage. Price: $6.29 for 12 ounces.
Big Train Incorporated Hot Cocoa (Chocolate). Beverage is very sweet, with a mild chocolate taste in the background. First ingredient: sugar. Entire ingredient list: sugar, nonfat dry milk, cocoa powder processed with alkali. Sodium content: 137 mg/serving. A darker chocolate color with a mildly chocolate aroma. Price: $4.00 for 7.5 ounces.
Cacao Blanxart. This is a slightly thickened cocoa, with a nice consistency and decent taste of cocoa. It's definitely on the sweet side. The major drawback: there's no way to make just one or two servings. Instructions are given only for the whole bag of mix, which makes a large potful, and there's no convenient way to divide the mix if a small number of servings is desired. First ingredient: cocoa powder. Entire ingredient list: cocoa powder, sugar, corn flour, vanilla. Sodium content: not listed. Price: $6.00 for 7 ounces.
Cacao Reserve By Hershey's (Classic Chocolate). A darker cocoa brown color and faintly chocolate aroma. Mix was exceptionally difficult to dissolve; too much simply didn't dissolve at all. Mild chocolate flavor and far less sweet than the other Hershey product of this type tested here. First ingredient: sugar. Also contains partially hydrogenated vegetable oil, carrageenan, guar gum, salt, vanilla, artificial flavor, and sodium caseinate, in addition to other ingredients. Sodium content: 150 mg/serving. Certified Kosher by OU. Price: $2.50 for 5-count package. Read our full review of Cacao Reserve By Hersheys.
Café-Tasse Chocolat en Poudre. This mix had no instructions of any kind printed on it or attached to it, so 3 tablespoons of mix was used to six ounces of milk. With these proportions, a medium milky brown beverage with a moderately chocolate aroma was produced, with a definite cocoa taste and not too much sweetness—very pleasant overall. Single-serving packets of this product are sold, but one was not used here, and it's not known if those contain the same amount of mix or have preparation instructions. First ingredient: cocoa powder (minimum 32%). Entire ingredient list: cocoa powder, sugar. Sodium content: not listed. Price: $8.25 for 8.75 ounces.
Chuao Chocolatier Hot Chocolate: Winter. We really liked this blend, although not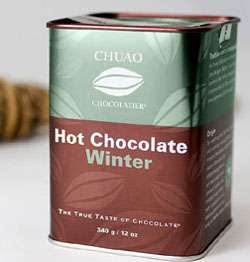 made as recommended—with boiling water—but with milk. The water version didn't give this beverage the richness it deserves. Chuao Chocolatier is a top artisan chocolate maker; it chose a delicious base of Venezuelan bittersweet chocolate, and added just enough sugar to make it lightly sweet so the winter spices could show through: cinnamon, clove, ginger, nutmeg and pepper. It isn't marked as "Aztec" or "spicy" hot chocolate, but it should be. This was also one of the easier-to-blend mixes—no lumps remained in the cup. Price: $12 for 18 ounces. (This item was not part of the original review, but was added later by THE NIBBLE editors.)
Coco-Luxe. Made of cocoa powder with tiny bits of white chocolate, the medium,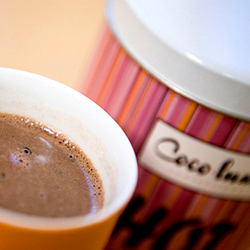 milky brown cocoa has a lovely, exotic nose that promises allspice and a secret ingredient that could not be pried from the chocolatier. What results is a lovely cup of high-end, milk-chocolate like cocoa (to those with less sensitive notes, it smells like milk chocolate, and is sweet on the palate as well). We made it with both whole milk and fat free and were dually satisfied. First ingredient: Dry whole milk. Entire ingredient list: Dry whole milk, cocoa powder, sugar, white chocolate, spice. Price: $19.95 for 16 ounces. In a nice lavender- and orange-striped gift tin. Read our full review of Coco-luxe Confections. (This item was not part of the original review, but was added later by THE NIBBLE editors.)
Continue To Page 4: Hot Cocoa Brands Beginning With D To G
© Copyright 2005-2015 Lifestyle Direct, Inc. All rights reserved. Photos are the copyright of their respective owners.