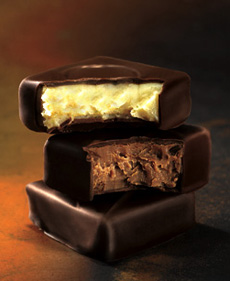 Ganache, a blend of cream and chocolate, can be additionally enhanced with any flavor in the rainbow. The ganache-filled chocolates above, from
John & Kira's
, are a NIBBLE Top Pick Of The Week.
March 2005
Updated May 2009

Chocolate Glossary
Sorry For The Inconvenience
The Chocolate Glossary has been vastly expanded
to serve your needs.
Please find the word you were looking for
by clicking on the alphabet link below.
CLICK HERE TO FIND A CHOCOLATE TERM
a b c d e f g h i j k l m n o p q r s t u v w x y
© Copyright 2005-2015 Lifestyle Direct, Inc. All rights reserved. Images are the copyright of their respective owners.