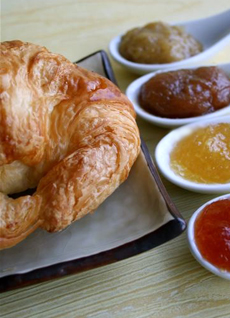 Send your croissant on a trip to the tropics with Sweet Serenade tropical fruit jams. Photo by Daniela Cuevas | THE NIBBLE.

KAREN HOCHMAN is Editorial Director of THE NIBBLE.

Sun-Rich "Sweet Serenade" Jam
Tropical Flavors Like Banana, Guava, Papaya & Pineapple Shine In Well-Crafted Jams
Page 1: Tropical Jam Overview
CAPSULE REPORT: We taste dozens of different lines of jam each year, and review just a handful. The Sweet Serenade line from Sun-Rich Gourmet comes from the tropical island of Mauritius, in the Indian Ocean. The fruit is grown the old-fashioned way—tree-ripened, hand-picked—and the jam is made the old-fashioned way, small batches with less sugar so that the excellent ripe fruit, not sugar, is what you taste. Americans are accustomed to berry fruit jams, since that's what has traditionally grown here. These tropical fruits are a real treat, and certain to become favorite jams. This is Page 1 of a three-page article. Click on the black links below to visit other pages.
Overview
Sun-Rich is a socially responsible online retailer that began selling coffee and Darjeeling tea, seeking alliances with growers who subscribe to fair labor laws and compassionate programs for workers. Along the way, they picked up lines of products that go well with tea and coffee: toffee, honey, pâte de fruits (fruit jellies) and jams.
The jams are made from a lovely line of fruits, grown on the tropical island of Mauritius, a nation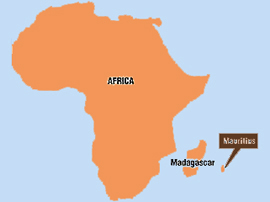 off the east coast of African in the southwest Indian Ocean, about 560 miles east of Madagascar (the French name is l'Ile Maurice).
While Mauritius is known by some travelers for its pristine white beaches and clear turquoise waters, it also is a food-grower's paradise. There, on a private estate established in 1858, fruits for the company's Sweet Serenade line of jams are grown. They are hand picked at the peak of ripeness and cooked in small batches, the old-fashioned way of helping to ensure a quality product.
Made from such fine fruit without artificial ingredients, colors or preservatives, you can taste the goodness. The label proclaims "Africa's Finest Fruit Jams," and while most manufacturers tend to offer hyperbole not backed by research data, we'll agree that these are mighty fine. Not overly sweet like many commercial products, the jams can be used in many more ways than just a bread spread, as you'll see in the Serving Suggestions section.

While most Americans have eaten banana and pineapple, and have had the opportunity to taste guava, litchi (lychee), mango and papaya, these fruits are not indigenous to the United States, so are not made into jams here. Imported brands are often what we call "supermarket brands"—not the finest specialty brands. But Sweet Serenade jams are chunky; in flavors like pineapple and banana, you'll enjoy tiny pieces of fruit. Great texture!




Some of the jams with a jar of the island honey. All product photography by Emily Chang | THE NIBBLE.
Continue To Page 2: Sweet Serenade Jam Flavors
© Copyright 2005-2015 Lifestyle Direct, Inc. All rights reserved. Images are the copyright of their respective owners.