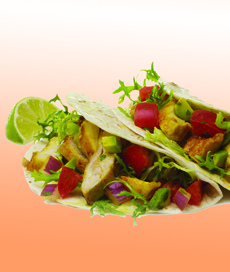 Grilled chicken and garden-fresh salsa could be the foundation of a flavorful build-your-own taco bar, perfect for easy entertaining. Photos courtesy McCormick.

Recipe: Turmeric-Spiced Chicken Tacos
With Tomato-Avocado Salsa
Overview
Turmeric and vine-ripened tomatoes are an earthy-meets-sweet healthy blend of ingredients.
Turmeric's active ingredient, curcumin, has been long known for its anti-inflammatory properties. Recent medical research is revealing much more, as turmeric is being used to treat health conditions from cancer to Alzheimer's disease.
The lycopene in tomatoes is a powerful antioxidant that shows promise with cardiovascular disease, diabetes, osteoporosis, prostate cancer,and even male infertility.
Avocado is very heart-healthy: Avocado oil can help lower cholesterol and regulate blood pressure. (Learn more about avocado oil.)
So you can legitimately tell guests that they're eating "healthy tacos."
What's the difference between a taco and a tortilla?
In Mexico, the word "taco" is a generic term, like "sandwich."
A tortilla can be made of flour or corn, served soft or fried-and-folded into a U-shaped holder.
A "taco" is simply a tortilla wrapped around a filling. Anything wrapped in a tortilla becomes a taco. As with a sandwich, the filling can be almost anything.
Turmeric-Spiced Chicken Tacos With Tomato-Avocado Salsa
This recipe for Turmeric-Spiced Chicken Tacos With Tomato-Avocado Salsa is great for easy entertaining, since you can make the chicken and salsa ahead of time. Set both out on the table along with lettuce and flour tortillas, and let guests build their own chicken tacos. Prep time is 15 minutes, but make sure to leave enough time to allow the chicken to marinate for at least 30 minutes before cooking. Cook time is about 16 minutes.
If you don't want the carbs of the tortilla, you can enjoy the spiced chicken on a bed of greens. You can turn it into a "chicken taco salad" by serving tortillas or tortilla chips on the side.
Yields 8 servings.
Ingredients For The Turmeric-Spiced Chicken

2 tablespoons olive oil

1 teaspoon garlic powder

1 teaspoon Sicilian sea salt (or other
sea salt)

1 teaspoon turmeric, ground

1/2 teaspoon red pepper, crushed

2 pounds boneless skinless chicken
breasts or thighs, trimmed
8 flour tortillas (8-inch)

Ingredients For The Tomato-Avocado Salsa

Combine vine-ripened tomatoes with turmeric for a naturally sweet and healthy blend.
6 medium vine-ripened tomatoes, cut into 1/2-inch chunks (2 1/2 cups)
2 ripe avocados, peeled and cut into 1/2-inch chunks (1 1/2 cups)
1/2 cup coarsely chopped red onion
1/4 cup chopped, fresh cilantro
2 tablespoons fresh lime juice
1 teaspoon Sicilian sea salt
1/2 teaspoon turmeric, ground
2 cups frisée, also known as curly endive or chicory (read more about
the different types of endive), or other lettuce


Combine vine-ripened tomatoes with turmeric for a naturally sweet and healthy blend.
Preparation
For the chicken, mix oil, garlic powder, sea salt, turmeric and red pepper in small bowl.
Place chicken in large resealable plastic bag or glass dish. Add marinade; turn to coat well. Refrigerate 30 minutes or longer for extra flavor.
Meanwhile, for the salsa, mix all ingredients in medium bowl. Cover. Refrigerate until ready to serve.
Remove chicken from marinade. Discard any remaining marinade.
Grill chicken over medium-high heat 6 to 8 minutes per side or until cooked through. Cut chicken into thin strips.
Place 1/4 cup lettuce on each tortilla. Fill with chicken and salsa.
Fold sides of tortilla over filling and roll up to serve.
Recipe © 2010 McCormick. All rights reserved. All other material © Copyright 2005- 2015 Lifestyle Direct, Inc. All rights reserved.