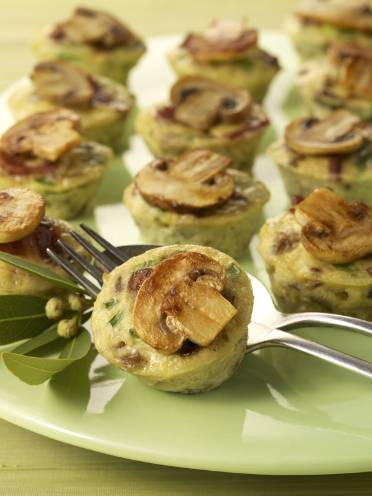 Sautéed button mushrooms make a perfect garnish for these Mini Mushroom Quiche Caps. Photo courtesy of the Mushroom Council.

Mushroom Hors d'Oeuvres
Page 4: Mini Mushroom Quiche Caps & Mushroom Chips & Dip Recipes
This is Page 4 of a five-page article. Click on the black links below to visit the other pages.
Mushroom Chips & Dip

This fancy take on the traditional chips and dip requires little preparation, as prepared pesto can be found in the grocery store near the pasta and spaghetti sauces. Yields 4 servings.

Ingredients

12 large white button or crimini
mushrooms
1/2 cup prepared pesto
1/2 cup light sour cream
Squeeze of lemon
Salt and pepper to taste

Preparation




Photo of mushroom chips and dip courtesy of the Mushroom Council.
Mix pesto with sour cream and set aside.
Heat grill to medium, about 365º.
Cut each mushroom in half and grill 5 minutes with lid closed.
Turn each mushroom and and grill another 4-5 minutes until cooked through and starting to brown.
Remove mushrooms from grill and place 2-3 mushrooms on a skewer. Repeat until all mushrooms are on skewers.
Season skewered mushrooms with a squeeze of lemon and serve with pesto dip.
Mini Mushroom Quiche Caps

Using a muffin pan for this recipe produces perfectly shaped, bite-sized quiche. Yields 18 hors d'oeuvres.

Ingredients

8 ounces button mushrooms
Non-stick cooking spray
1/4 cup finely diced green onion
3 strips cooked bacon
1/4 teaspoon salt
Pinch of freshly ground black or white
pepper
3 large eggs
2 large egg whites
2 tablespoons half-and-half
1 teaspoon Dijon mustard
2 ounces shredded Swiss cheese

Preparation

Photo of mini mushroom quiche caps courtesy of the Mushroom Council.
Preheat oven to 325º.
Spray mini muffin pans with non-stick spray.
Slice 3 mushrooms for garnish.
Heat a 10" non-stick skillet over medium-high heat and spray with cooking spray.
Add a single layer of mushrooms and cook, without stirring, for about five minutes or until mushrooms become brown on one side. Turn and cook about five minutes or until other side is same color. Set mushrooms aside.
Chop remaining mushrooms and put in skillet along with onions, salt and pepper and sauté, stirring occasionally, for 8 minutes or until onions are soft and all moisture has evaporated. Remove from the heat and let cool.
In a large bowl, whisk eggs, half-and-half and mustard. Stir in mushroom mixture and cheese.
Divide egg/mushroom mixture among muffin cups, filling each about 3/4 full.
Bake about 20-25 minutes until puffed and set. Let cool in the pan 5 minutes.
Using a teaspoon, gently run the spoon around the edge of each cup and scoop each quiche to remove. Place a sautéed mushroom slice on top of each quiche and serve.
Continue To Page 5: Portabella Mushroom Recipes
Recipes courtesy of the Mushroom Council and mushroominfo.com. Other material © Copyright 2005- 2015 Lifestyle Direct, Inc. All rights reserved. Images are the copyright of their respective owners.