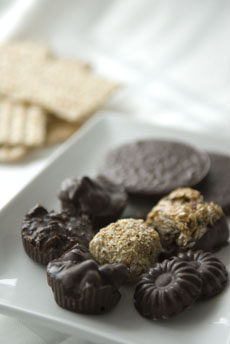 Aunt Sadie's kosher chocolate is also kosher for Passover. Photo by Corey Lugg | THE NIBBLE. Styling by Lauren LaPenna.

Aunt Sadie's Kosher Chocolate
Kosher For Passover, Kosher Year-Round
Overview
Kosher for Passover chocolate used to be "the good news and the bad news." The good news was that there was chocolate, the bad news...it wasn't such good chocolate. With Aunt Sadie's, the chocolate is not only good, it's inventive and fun. There are classics like chocolate-covered orange peel and fruit and nut clusters, and new inventions like charoset truffles, lavender marshmallows and matzo clusters. Let's dig into the chocolate box.
Kosher Chocolates
The line is named after the mishpocheh.
Now you can bring chocolates to the seder hostess with pride...and anticipation!
AUNT SADIE'S CANDIES

Kosher & Kosher For Passover Confections

Certified Eco-Kosher by Dreidel-K

The Whole Megillah
Assortment
Small Box (4 oz) $7.50
Medium box (8 oz) $15.00
Large Box (16 oz) $30.00
Party Box (40 oz) $67.50
Occasion Box (80 oz)
$135.00
Individual Confections
Small Box (4 oz) $5.50 To
$9.50
Medium Box (8 oz) $11.00
$19.00 To
Large Box (16 oz) $22.00
To $38.00

Purchase online* at
AuntSadiesCandies.com




Photo by Corey Lugg | THE NIBBLE. Styling by Lauren LaPenna.
*Prices and product availability are verified at publication but are subject to change. Shipping is additional. These items are offered by a third party and THE NIBBLE has no relationship with them. Purchase information is provided as a reader convenience.
Recent Articles From Our Kosher Nibbles News Feed:
Subscribing notifies you whenever there are
new additions to the Kosher Nibbles section.

Subscribe to THE NIBBLE™ Kosher Nibbles by Email
© Copyright 2005-2015 Lifestyle Direct, Inc. All rights reserved. Images are the copyright of their respective owners.