Monty Python's Holy Grail Ale
An English Pale Ale From The Black Sheep Brewery
CAPSULE REPORT: An English pale ale brewed to celebrate the 30th anniversary of the Monty Python comedy team, Monty Python's Holy Grail Ale is no marketing gimmick. A solid English quaffer, it stands on its own. Since its introduction in 1999, it has become The Black Sheep Brewery's best-selling beer in the U.S. As with most ales, it pairs very well with food.
Paul Theakston hails from one of British beer's royal families. Any beer drinker worth his or her malt is undoubtedly familiar with the Theakston brewery, which began producing ales in the tiny English town of Masham, North Yorkshire, back in 1827. However, in the great corporate food chain, the little are often eaten by the big; and in 1987, after much deliberation and no small amount of heartache, the small-but-mighty Theakston brewery was acquired by Scottish & Newcastle, one of the world's largest brewing conglomerates (Theakston was returned to private family ownership in 2004). After the sale, Paul was offered a job with Scottish & Newcastle, and he faced an age-old dilemma: Should he follow the money, or stay true to his roots?
Beer drinkers everywhere are grateful that he chose the latter. Deciding that his heart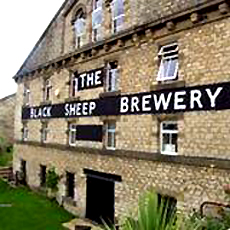 was in Masham, Paul opted to open a brewery of his own and continue to do what Theakstons seem to do best: brew the kinds of quality ales that one tends to find in smaller breweries. Thus, in 1992, The Black Sheep Brewery was born. The name not only alludes to the historical importance that sheep and sheep trading once had in Masham's economy, but also, according to the brewery's website, "[speaks] volumes about our maverick attitude to the multi-nationals seeking to dominate the brewing industry and capture[s] the essence of the family struggle that led to our birth."
The brewery's name also shows that despite the often-bitter negotiations that led to the sale of the Theakston brewery, Paul, the self-described "black sheep" of the Theakston family, kept his sense of humor. And when one thinks of British humor, what immediately comes to mind? Monty Python! It's fitting then, that in 1999, Black Sheep was commissioned to brew a beer to celebrate the 30th anniversary of the famed British sketch comedy team. That beer, Monty Python's Holy Grail Ale, has become one of Black Sheep's top-selling ales and is sought out by veteran drinkers of pale ales and curious fans of the Flying Circus alike.
A Brew For Knights Who Say "Ni"...And The Rest Of Us
Holy Grail is a pale ale which, according to the beer's label, has been "tempered over burning witches." And although I cannot promise that no witches were harmed during the brewing of this ale, I can assure you that after your first swallow (unladen, of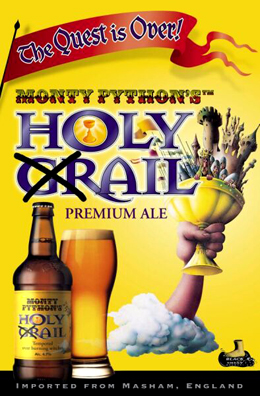 course), this fine example of a traditional English pale ale will cast its richly malty and pleasantly bitter spell on your palate. The ale's strong roasted malt flavors impart a caramel-like sweetness to the brew, and the slightly fruity hop flavors cut through the sweetness to create a rounded, even finish. The bitterness does not pack a hop wallop, however. This is not a bracing American IPA, brewed to appease legions of hopheads at the expense of those less-enamored with Humulus lupulus (the common hop). Rather, according to Alan Dunn, Black Sheep's head brewer, Holy Grail is brewed using Whitbread Golding hops, a variety of medium intensity known for its distinct citrus aroma and flavor. During the brewing process, the boiled wort (the sweet liquid consisting of water and malted barley) passes through a hop-back, a chamber containing whole leaf hops. This process combines the malt and hops flavors to intensify the fruity aroma on the nose, and helps to leaven the ale's sweetness to make for a balanced brew.
Food Pairings
And like most pale ales, Holy Grail also pairs well with food—particularly rich meat dishes and other strongly-flavored foods. I enjoyed my bottle of Holy Grail with a bacon-wrapped, maple-glazed pork loin served over cheddar cheese grits—kind of a fanciful, American approximation of the flavors and textures found in that old British standby, bangers and mash—and the brew's slightly sweet, malty flavors both complemented the sweetness of the pork's maple glaze and contrasted nicely with the saltiness of the bacon. The subtle hop bitterness of the beer held up to the sharpness of the cheddar cheese in the grits, and the beer's overlying smoothness matched well with the rich, tender pork.
During the meal, I enjoyed my bottle of Holy Grail poured into a traditional pint glass (see the photo in the poster above)—the Grail of choice for beer drinkers. The bottle suggests that you serve Holy Grail cool, rather than ice-cold. Its subtle flavors are masked by deep refrigeration, so you should allow your bottle to sit for a few minutes after opening it to let the flavors fully present themselves. If you're enticed to drink it before it has reached a properly cool temperature, just think of Sir Galahad in Castle Anthrax. He was able to withstand temptation (well, sort of); you can, too. Your taste buds will thank you.
And speaking of giving thanks, fans of British ales everywhere should raise a pint to Paul Theakston, who followed his heart by staying in tiny Masham to brew ales worthy of his beer-rich family's name. Who knew, after centuries of searching, that the quest for the Holy Grail would end in North Yorkshire? Sometimes it takes a black sheep to think differently.
Shopping For The Grail
Monty Python's Holy Grail Ale is brewed year-round by the Black Sheep Brewery and is available in retail stores throughout the U.S. Currently, their e-store only ships to the U.K. mainland. However, if you can't find it in stores where you live, your local retail store manager should be able to order it for you. A list of distributors will be posted on the brewery's website soon.
Also, if you ever find yourself in Masham, you can stop by the Black Sheep Brewery for a tour, a pint (or two) and a meal in their bistro.
BLACK SHEEP BREWERY

Monty Python's Holy Grail Ale

Purchase online at
BeerGeek.Biz

It is sold in retail stores in nearly 40 states. Visit Eurobrews.com; click "Where To Find Us" to find the distributor in your state who can tell you which stores sell Monty Python's.

Prices and flavor availability are verified at publication but are subject to change.

For more information about Holy Grail Ale and The Black Sheep Brewery, visit BlackSheepBrewery.com.