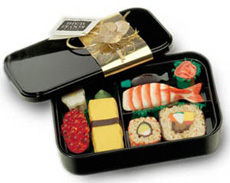 Novel, but delicious:
Koo-Ki Sushi
's obento box of white chocolate sushi.


Candy Novelties
They may be novel, they may be fun...but they're also delicious. If it doesn't taste great, it doesn't get selected for THE NIBBLE™. If you have favorite deluxe candy novelties, click on the link to tell us about them.
© Copyright 2005-2015 Lifestyle Direct, Inc. All rights reserved. Images are the copyright of their respective owners.