Nibble Tip
Keep some boxes of pâtes de fruits* in the pantry. They're so versatile: for when friends drop by for tea or coffee; when you need to round out a petit fours plate; as an accent on a dessert plate; when guests can't eat your regular dessert due to nut or chocolate allergies. In fact, if you've forgotten the dessert, or the soufflé flops, bring out a beautiful plate of these jewels and no one will be the wiser. The dense concentration of fruit makes them as much a fruit dessert as a candy.
*Pronounced POT duh froo-EE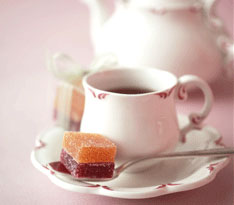 Michael Recchiuti's pâtes de fruits come in apricot, Morello cherry, passion fruit, pear-lime and other delicious flavors.