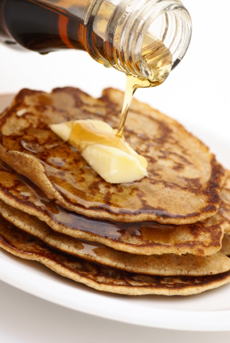 If you like a strong buckwheat pancake, Arrowhead Mills has a mix for you! Photo by M. Kucova | IST.
STEPHANIE ZONIS focuses on good foods and the people who produce them.

Whole Grain & Multigrain Pancake Reviews
Page 6c:
(1) Anne's Country Cupboard Desert Morning Blue Corn Pancake & Waffle Mix
(2) Arrowhead Mills Pancake & Waffle Mixes
You are reading part of a review of 99 different whole grain and multigrain pancake mix brands from 44 different manufacturers. You can return to the index of all the pancake mix brands, go to Page 1 of the complete article or continue to the next page of reviews.
Pancake Mix Reviews:
Anne's Country Cupboard Desert Morning Blue Corn Pancake & Waffle Mix
The mix is in a plastic bag inside a pretty, Southwestern-themed cloth bag. I used whole milk as indicated in the instructions (souring it with vinegar as directed), but when prepared according to package directions, the batter was far too thin and had too many large lumps, even after whisking it. I had used the entire bag of mix to make the batter, so I had none to add to counteract the batter's thinness. The batter was still too thin after 30 minutes, so I had to make very small pancakes, as the batter spread out a great deal on the griddle. There was not much rise. The finished pancakes have a great blue-gray color and a pleasant texture from the cornmeal, but are slightly too salty. MadeInNewMexico.com
Arrowhead Mills Pancake & Waffle Mixes
Of the mixes I tried from this company, all except one (the Multigrain) called for honey to be added to the mix (along with milk, eggs, etc.) to make the batter. While you're given a choice of liquids (milk, soy milk, rice milk or water), my general choice is to use milk, straight from the fridge. What do you think happens when cold milk and cold eggs are added to a mix, along with honey? Correct! The honey stiffens, sinks to the bottom of the bowl, and is a chore to incorporate, even when you mix the batter vigorously with a whisk. I found this very annoying. Certified kosher by The Organized Kashrus Laboratories. ArrowheadMills.com
© Copyright 2005- 2015 Lifestyle Direct Direct, Inc. All rights reserved. Images are the copyright of their respective owners.