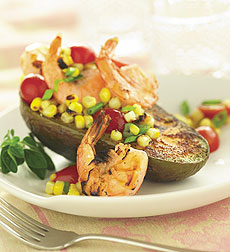 Avocado Shrimp Boats are a spicy, tasty and fun lunch or light dinner.
Photo courtesy J.M. Smucker Company.

Recipes: Grilling Hall Of Fame
15 Award-Winning Recipes To Try On Your Grill

Barbecuing has never been hotter! According to The Hearth, Patio and Barbecue
Association, 58% of grill owners use their grills year round. To celebrate grilling's popularity, Crisco No-Stick Cooking Sprays held a contest, with winners inducted into the Cooking Sprays Grilling Hall of Fame. Here, we present the 15 winning recipes, selected from thousands of submissions. All easy are easy, yet still innovative and delicious. This is Page 1 of a 15-page article. Click on the black links below to visit other pages. Let's get grilling!
Recipe Index By Course
Avocado Shrimp Boats
Make these for lunch or for the main course of a light dinner. Serves 4.
Ingredients
12 large uncooked shell-on shrimp (approximately 1/2 pound)
Kosher or coarse sea salt
Olive oil cooking spray
Plain no-stick cooking spray
2 Haas avocados, halved lengthwise, pits removed
2 teaspoons ancho chile powder
1/2 teaspoon garlic powder
1/2 teaspoon cumin seeds
Freshly ground pepper, to taste
Juice of half a lime, plus 2 limes halved vertically
1 small ear corn, grilled
2 tablespoons finely minced green onions
2 tablespoons finely minced hot chiles, such as habañero or serrano
4-6 grape tomatoes, quartered
4 teaspoons fresh oregano, snipped
Sprigs of fresh mint or cilantro, for presentation (optional)
Preparation
Snip through curved side of shrimp shell with kitchen scissors; remove vein if present. Spray generously with olive oil cooking spray; toss with 2 teaspoons salt. Set aside 10-15 minutes.
Meanwhile, spray grill grate with plain no-stick cooking spray and heat to medium-high.
Cut a thin slice from rounded side of unpeeled avocado halves, so that they sit flat on counter. Brush cut edges and cavity with lime juice. Sprinkle with ancho powder, garlic powder, cumin, salt and pepper. Spray generously with olive oil cooking spray.
Place avocado halves cut side down on grate directly over coals; grill 2-3 minutes, until lightly grid-marked. Remove and reserve. Grill shrimp 2 minutes per side, until opaque throughout and shells are bright orange or red.
Spray cut sides of limes with olive oil cooking spray and sprinkle with a pinch of salt; grill cut side down 2 minutes.
Scrape kernels from corn. Combine 1/4 cup kernels with green onions, chiles, tomatoes, oregano, 4 teaspoons extra virgin olive oil, and salt and pepper to taste. Mound into cavities of avocados.
Shell shrimp, leaving tail intact. Perch shrimp on top of avocados. Lightly spray finished dish with olive oil spray and serve with grilled lime halves. Garnish with herb sprigs.
Variation: Leave shrimp unshelled, the presentation with brightly colored shells is striking. Guests can slip them off easily. Provide plenty of napkins.
Go To Page 2: Cardamom–Scented Tropical Fruit & Marshmallow Skewers
With Apricot Sauce
Recipe copyright 2009 J.M. Smucker Company. All rights reserved. Other material © Copyright 2005- 2015 Lifestyle Direct, Inc. All rights reserved. Images are the copyright of their respective owners.