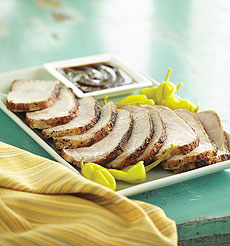 Hickory wood chips and strong spices give this pork dish its smoky flavor.

Photo courtesy J.M. Smucker Company.

Recipe: Grilled Mango Pork Loin
With Some Smoky Mojo

This grilled pork recipe was a finalist in the 2009 Crisco Grilling Hall Of Fame Contest; contestants used Crisco No-Stick Cooking Sprays to grease their grills. You can read more about the contest on Page 1. This is Page 13 of a 15-page recipe series. Click on the black links below to view the other recipes.
Smoky Mojo-Mango Pork Loin
Sweet, spicy and smoky—this dish has it all! Serves 6.
Ingredients
1 (2-1/2 to 3 pounds) center-cut piece of pork loin
1/2 cup peeled and finely chopped fresh mango
2 tablespoons orange juice
2 tablespoons lime juice
2 teaspoons minced garlic
1/4 cup chopped red onion
1/4 cup extra virgin olive oil
2 teaspoons kosher salt
1 teaspoon freshly ground black pepper
1/2 teaspoon ground cumin
2 teaspoons sweet paprika
1/4 teaspoon smoked sweet paprika
1/2 teaspoon crushed red pepper
No-stick cooking spray
2 cups hickory wood chips, soaked in water for 1 hour
1 cup purchased barbecue sauce (see our barbecue sauce reviews)
4 mild pepperoncini for garnish
Preparation
Place pork on work surface and pat dry with a paper towel. Use a metal skewer or thin sharp knife to pierce entire surface of pork 1-inch deep at 1-inch intervals. Place in a gallon-size sealable plastic bag.
For marinade, in food processor or blender, process mango, orange juice, lime juice, garlic and onion until smooth. Add oil and process for 10 seconds. Pour over pork. Seal and shake to evenly coat. Refrigerate for 1 hour.
Meanwhile, for rub, in a small bowl, stir together salt, black pepper, sweet paprika, smoked sweet paprika and red pepper. Remove pork from liquid. Sprinkle entire surface of pork evenly with rub.
Spray gas grill grates, meat tongs and an instant-read meat thermometer with no-stick cooking spray. Preheat grill to high heat.
Drain wood chips and wrap in foil, sealing to make a pouch. Pierce top of foil several times with fork. Place foil pouch on one side of grill. Cover grill and heat until smoke begins to come out of grill.
Reduce heat to medium. Place pork on grill away from direct heat. (This can be done by turning off a burner if there is more than one.) Cover and grill for 1-½ to 1-¾ hours or until internal temperature reaches 160°F. Use tongs to turn pork over after one hour. To test for doneness, insert thermometer into center of pork.
Remove pork to a cutting surface and let rest for 10-15 minutes before thinly slicing. Place barbecue sauce in a small bowl. Arrange pork slices around bowl. Garnish with pepperoncini as desired. Serve immediately.
Go To Page 14: Succulent Shrimp & Spinach Grilled Pizza
Recipe copyright 2009 J.M. Smucker Company. All rights reserved. Other material © Copyright 2005- 2015 Lifestyle Direct, Inc. All rights reserved. Images are the copyright of their respective owners.