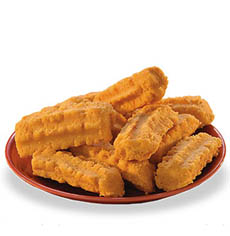 KAREN HOCHMAN is Editorial Director of THE NIBBLE.
September 2007
Updated October 2008

Cheese Straws
Page 3: J & M Cheese Straws
This is Page 3 of a four-page review. Click on the black links below to visit other pages.
J&M Cheese Straws
J&M Foods of Little Rock, Arkansas has been baking cheese straws for 20 years, from a 100-year-old family recipe.
Compared to Mississippi Cheese Straw Factory straws, they are less dense—an airier style. They are also tiny: 1-3/4 inches long by 5/8 inches wide by 1/4" high. Each is a ladylike bite; the less ladylike could eat them two at a time.

While the boxes indicate careful seasonings—Asiago with rosemary and black pepper, Bleu with garlic, Swiss with bacon and chives—don't expect to find much of the secondary seasonings on the palate. Cheese is a strong flavor; only pepper and jalapeño can overtake it.

Original Cheese Straws, made with Cheddar, are more moderate in flavor—there's Cheddar, but not intense Cheddar. There is, however, a peppery kick on the finish that would go well with with a martini, beer or, in the wine world, a big Zin. There's too much pepper for more delicate wines.




Photos of J&M products by Dhanraj Emanuel.
Asiago, too, is more moderate in cheese flavor but has a good amount of heat from cracked pepper (which overwhelmed the rosemary in the recipe). By contrast, the Asiago from Mississippi Cheese Straw Factory has full-on big-cheese flavor, if that is your stylistic preference. Both would go well with a salad or a robust soup.
Bleu and Swiss are the most delicate in cheese flavor, and would go well where a buttery pastry with a hint of cheese is preferred. Serve these with a more subtle soup or with a fruit salad (a luncheon salad, fruit cup appetizer or even with dessert) or with fresh berries.
Jalapeño is a Cheddar straw spiked with jalapeño—you can see pieces of the chile in the straw. The burn comes on immediately, and it's pleasant.
The company makes miniature cookies in three flavors—Chocolate Orange, Lemon and Key Lime. We didn't have the Key Lime, but the Chocolate Orange were tasty and the buttery Lemon cookies were a delight.
J & M CHEESE STRAWS

Asiago, Bleu, Original (Cheddar), Jalapeño, Swiss

3 6-Ounce Boxes
$25.77
3 10-Ounce Tins
$39.57

Available at retailers nationwide and e-tailers including FoodLocker.com (whose prices are shown above). Prices will vary by retailer.

To find a retailer near you or find a specific gift tin size or product, telephone 1.800.265.2278 or visit JM-Foods.com.
Prices and product availability are verified at publication but are subject to change. Shipping is additional.
Now, visit our next fine cheese straw producer.
Continue To Page 4: Mississippi Cheese Straw Factory
© Copyright 2005-2015 Lifestyle Direct, Inc. All rights reserved. Images are the copyright of their respective owners.