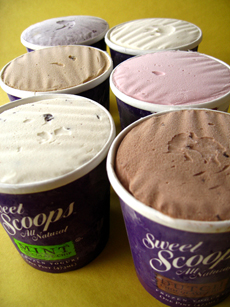 Sweet Scoops frozen yogurt, in regular and seasonal flavors, tastes like creamy, rich ice cream. Photography by Emily Chang | THE NIBBLE.

KAREN HOCHMAN is Editorial Director of THE NIBBLE.

Sweet Scoops Probiotic Frozen Yogurt
Page 2: Comparison To Ice Cream
This is Page 2 of a two-page article. Click on the black links below to visit Page 1.
Comparison To Ice Cream
With less than half the fat and almost half the calories of a favorite ice cream brand like Ben & Jerry's—yet just as much creaminess and rich satisfaction, here's how Sweet Scoops stacks up:
SERVING SIZE:
1/2 CUP
SWEET SCOOPS
DUTCH CHOCOLATE
FROZEN YOGURT
BEN & JERRY'S
CHOCOLATE
ORIGINAL ICE CREAM
Calories

160

260

Calories From Fat

60

140

Total Fat

7g

16g

Saturated Fat

5g

11g

Cholesterol

15mg

50mg

Total Carbs

21g

25g

Sugars

18g

22g
Or, for those to whom a cup is a realistic average serving, 320 calories versus 520. Enjoy!
SWEET SCOOPS PROBIOTIC FROZEN YOGURT
Black Raspberry, Coffee Cookies & Cream, Dutch Chocolate Chip, Ginger, Madagascar Vanilla, Mint Chocolate Chip, Mudslide Chocolate Chunk, Peach Mango, Pumpkin (seasonal), Wild Maine Blueberry (seasonal)


To purchase by mail order,
telephone 603.642.4111, fax 603.642.4820 or email info@sweetscoops.com.


Find a store locator at
SweetScoops.com



*Prices and product availability are verified at publication but are subject to change. Shipping is additional. These items are offered by a third party and THE NIBBLE has no relationship with them. This link to purchase is provided as a reader convenience.
Go To Page 1: Introduction & Flavors
© Copyright 2005-2015 Lifestyle Direct, Inc. All rights reserved. Images are the copyright of their respective owners.