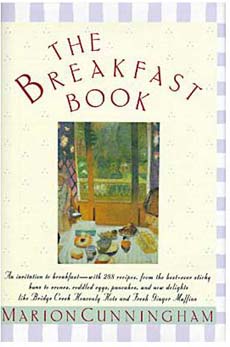 Don't wait until lunch to eat great food: breakfast is the most important meal of the day, and Cunningham treats it as such.
Jessica Tagliaferro is a Brooklyn, NY-based writer, editor, and librarian.
June 2005

The Breakfast Book
By Marion Cunningham
Breakfast is the meal about which Americans are the most particular. Just travel outside the country with one, and you will hear the grumbling. Cunningham's work doesn't mess with perfection. There is no brunch-like ambiguity here. Each chapter is devoted to a breakfast staple—breads, toasts, cereals, donuts, eggs, griddle fare, coffee/tea, and so on. You will be dreaming of quitting your job and opening a B&B.
—A favorite book of Jessica Tagliaferro
© Copyright 2005-2015 Lifestyle Direct, Inc. All rights reserved. Images are the copyright of their respective owners.