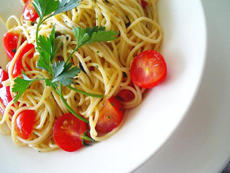 Simple elegance can be found in the most basic Italian dishes. Photo by Jun courtesy of MorgueFile.com




Italian Cookbooks
Simple and Traditional
An amazing meal is an essentail part of daily life in Italy. Integrate great Italian flavors into your meals and your guests will be be saying "Grazie!"
If you'd like to recommend a favorite book on Italian cooking, click here.
Nibble Tip

In southern Italy, toasted breadcrumbs are often sprinkled over pasta instead of grated cheese. Buy gourmet seasoned breadcrumbs or make your own. Or, double the fun and offer your guests both.

Spaghetti alla Puttanesca with breadcrumbs. Photo by Ken Burris courtesy of

EatingWell.com
© Copyright 2005-2015 Lifestyle Direct, Inc. All rights reserved. Images are the copyright of their respective owners.