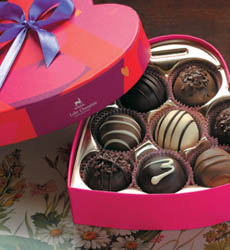 These chocolate truffles are just one of the delicious Valentine choices from Lake Champlain Chocolates. Certified kosher (dairy) by Star-K.
February 2006
Updated February 2010

The Best Kosher Valentine Gifts
Kosher, But Absolutely Delicious For Anyone
One of our kosher colleagues was surprised that we chose to write about kosher Valentine's Day candies, but celebrations of St. Valentine date back to Christianization of pagan ritual. Pope Gelasius declared February 14th St. Valentine's Day around 498 A.D., when pairing off the single men and women by lottery was part of the celebration.
But the modern Valentine's Day we celebrate, which began in post-Renaissance England, has always been a holiday about love, romance, friendship and affection. By the middle of the 18th century, it was common for friends and lovers in all social classes to exchange handwritten notes or poems. By the end of the century, thanks to improvements in printing technology, printed cards began to replace written letters. Small tokens of affection, sweetmeats or flowers followed. Elegant chocolates did not appear until the 20th century; so giving chocolate as a token of love or friendship on Valentine's Day is a modern concept indeed.
Knowing many observant Jews who enjoy bestowing (and receiving) such sweet tokens, we created this selection of candy, cookies and muffins—wonderful treats that happen to be kosher. We just couldn't figure out how to title the article so that nonkosher readers would read it as well. But, whatever your dietary restrictions, as long as they include sweets, take a taste of these:
Eleni's: Valentine Cookies

Eleni is the queen of hand-iced cookies, and has a broad selection for Valentine's Day. Our favorite gift for that special guy in your life are "Sweethearts," a sophisticated design with red-and-white patterns in stripes, dots and tattersalls, plus the all-important "message" cookies up front. For her, check out "Love Letters," loving notes and red envelopes sealed with a pink heart. For all: a good time eating these delicious sugar cookies. Read our full review of Eleni's Cookies.

Certified kosher (dairy) by Orthodox Union

Sweethearts
18 Hand-Iced Cookies
$65.00
Love Letters
8, 18 or 32 Hand-Iced Cookies
$45.00-$105.00

Fairytale Brownies: Magic Morsels

Miniature brownies, 1.5" square, are a twist on traditional Valentine chocolates. Six each of Original, Caramel, Chocolate Chip and Walnut. Read our full review of Fairytale Brownies.

Certified kosher (dairy) by Greater Phoenix Vaad Hakashruth

Valentine Magic Morsels
$30.90
Add Additional $3.95 To Choose From 12 Available Flavors




Godiva: Romantic Heart Assortment

If your valentine is a Godiva fan, she'll flip for this gorgeous satin-textured heart box topped with a red rose. Inside is a mixture of Godiva's signature pieces: classic milk, dark and white chocolate including creams, caramels, nuts and ganaches.

Certified kosher (dairy) by Orthodox Union

29-Piece Heart
$70.00
40-Piece Heart
$90.00

Jer's: Chocolate Peanut Butter Confections

If your valentine loves peanut butter and chocolate, introduce him or her to award-winning Jer's: the IncrediBall has a center of all-natural peanut butter with rice crisps to add a slight crunch, enrobed in milk, dark or white chocolate. Pretzo Change-O has crushed pretzels. Cara Mellas mixes in caramel. Read our review of Jer's Handmade Chocolates.

Certified kosher (dairy) by Orthodox Union

Lake Champlain: Grand Valentine Chocolate Assortment

Twenty-two yummy pieces in a classic heart-shaped box include classic favorites like Chocolate Truffles, Caramel Hearts, Raspberry Creams, Maple Crunch, Evergreen Mint, Chocolate Hearts and Dark Mint Crunch Squares.

Certified kosher (dairy) by Star-D

Lake Champlain: Sweetheart Valentine Truffles

Eight large and luscious milk and dark truffles in Champagne, French Roast, Grande Valencia, Legendary Dark, Vanilla Malt, White Raspberry, All Milk and Amaretto Praline.

Certified kosher (dairy) by Star-D

Lake Champlain: Foil Hearts

We can't stop eating these foil-wrapped hearts: milk, dark and milk chocolate caramel. Fill a candy bowl, decorate the dining table, garnish a dessert plate or coffee cup and/or leave them on your loved one's pillows. You can select single-flavor bags, or a bag of mixed flavors.

Certified kosher (dairy) by Star-D

Assorted Chocolate Hearts Gift Bag
(Approximately 40 Hearts)
$20.00
Gift Bag In One Flavor
$12.00

Max Brenner: Gift Box

Max Brenner has a variety of Valentine bonbon gift options. The Bonbons Rose Box comes with an assortment of six bonbons and six dried roses in a pretty box. The chocolates have hearts and romantic phrases printed on them.

Certified kosher (dairy) by Bet-Shemesh
Rabbinate
Recent Articles From Our Kosher Nibbles News Feed:
Subscribing notifies you whenever there are
new additions to the Kosher Nibbles section.

Subscribe to THE NIBBLE™ Kosher Nibbles by Email
© Copyright 2005- 2022 Lifestyle Direct, Inc. All rights reserved. Images are the copyright of their individual owners.