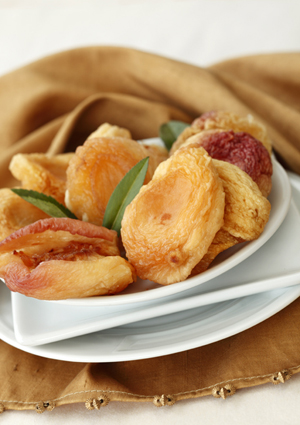 Dried yet succulent white nectarines: simply the best. All photography by Katharine Pollak | THE NIBBLE.
WHAT IT IS: Top quality dried fruit.
WHY IT'S DIFFERENT: It's so moist and succulent, and in great packaging that keeps it that way for a year or longer.
WHY WE LOVE IT: It's sweet, it's a healthier option, and it really satisfies a sweet tooth.
WHERE TO BUY IT: At Asian food markets nationwide or contact the company: sales@archfoods.com. There are two varieties in grab-and-go bags on Amazon, as well as a selection of gift assortments from $14.95 to $35.95.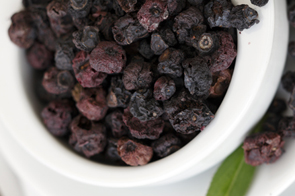 Blueberry lovers can enjoy delectable blueberries year-round. Add these dried blueberries to cereal
and yogurt and to make "blueberry vanilla" ice cream or frozen yogurt.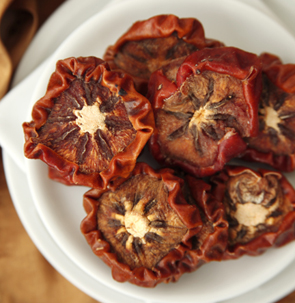 The dried persimmons are sweeter than most fresh ones we've had.


Simply The Best Dried Fruit: Goldenvale
Jump to the article index below
REVIEW: Grown in the Golden State (California), Goldenvale dried fruits are the best we've ever had: flavorful, succulent and moist—even nine months after we opened the resealable bag. While many brands claim to be made from "the finest ingredients," here the proof is most definitely in the see-through plastic bag.
There's nothing added to these dried fruits: no sugar, colors or flavors. The fruits are grown without any chemical fertilizers and pesticides by farmers who know the difference between good and great.
And the pieces of fruit are beautiful. The selection includes apricots, blueberries, kiwi fruit, nectarines, peaches (the last two in both white and yellow), plums, persimmons, pears and raisins—a gorgeous multicolored assortment that will convert people who don't like raisins. This line of dried fruits can easily turn a sweets-lover to these healthier choices.
The only problem: The grab-and-go line is largely sold at Asian food stores. Those who want the best dried fruit should hand a copy of this review to their store managers. Gift assortments are available on Amazon.
Ways To Enjoy Dried Fruit
From the bag
In baked goods
In cereals
With yogurt
As a snack mix with nuts and granola
In stews and as a side with grilled and
roasted meats and poultry
Marinated in a sweet wine or liqueur as a
dessert garnish
Dried Fruit Nutrition
Although fresh fruits are the healthiest option, dried fruit maintains most of its nutrition (and has more intense fruit flavor).
According to Arch Foods, sellers of Goldenvale dried fruit, the only nutrient that tends to be lost during the drying or dehydrating process is vitamin C. All other nutrients remain preserved to a significant extent.
Dried fruit is high in fiber, a far healthier alternative to sugary snacks and a good source of quick energy.
Many dried fruits are high in iron, potassium and selenium, important nutrients for maintaining healthy blood and muscles and valuable to athletes or those who simply work out.
A Real Keeper
Properly sealed, dried fruit can last for months, if not years. We proved that by keeping one package (opened) for nine months and another (unopened) for a year. Both fruits were as moist and flavorful as ever.
Goldenvale dried fruit is a great item to tuck away in the pantry...leave in your desk or locker ...keep in the car. There will always be a good-for-you treat waiting.
— Karen Hochman
Check out the article index, below.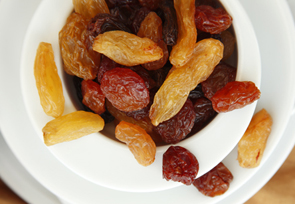 Goldenvale's raisin medley.