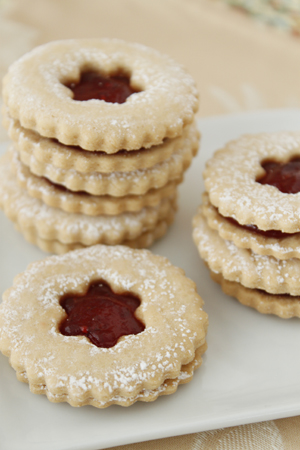 My Dad's, started because a family member had celiac disease, makes delightful gluten-free, bakery-style cookies. Here, classic Linzer cookies filled with jam. All photography by Elvira Kalviste | THE NIBBLE.
WHAT IT IS: A large line of bakery-style cookies, gluten-free.
WHY IT'S DIFFERENT: The large selection of classic cookie types mean you won't get tired of any one style.
WHY WE LOVE IT: They taste as good as the "real thing," and can be served to an entire group of family and guests without anyone noticing a difference.
WHERE TO BUY IT: MyDadsCookies.com, $7.95 per six-ounce box, with free shipping.
NEED GLUTEN-FREE MATZO FOR PASSOVER? We like Yehuda brand, in Original and Toasted Onion.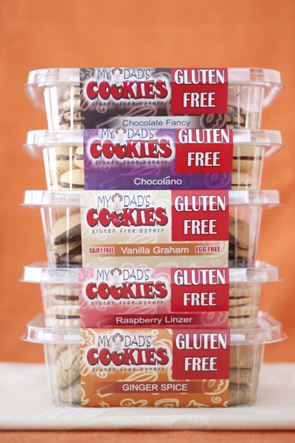 Just a few of the styles of gluten-free treats.
My Dad's: Some Of The Best
Gluten-Free Cookies
Jump to the article index below
REVIEW: We try to taste as many gluten-free products as we can. As many as one in seven Americans are gluten-sensitive* and can't have wheat. They deserve to eat as well as the rest of us.
Unlike allergens which can be easily avoided (such as nuts), gluten, a wheat protein, is in every conventional bread, pasta, pizza, cookie, cake and pie.
While large manufacturers have created gluten-free products to meet consumer demand, they aren't always the tastiest products around. The ingredients that make the closest-to-wheat gluten-free flours are significantly more expensive than wheat flour. Large manufacturers work within strict margins and can't always use "the best."
While we've found other excellent small brands of gluten-free cookies and cookie mixes, we were pleased to come across My Dad's Cookies, an extensive line of bakery-style cookies, at the recent Coffee & Tea Festival in New York City. We sampled everything on the trays, and only when we decided to purchase a few boxes did we see the package, stating GLUTEN FREE.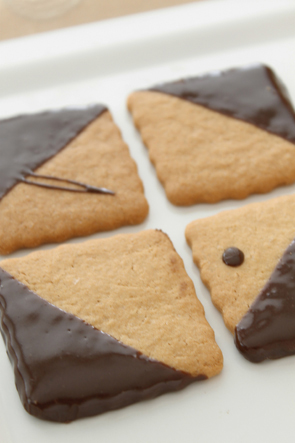 Chocolate-dipped graham crackers.
There is just about every type of cookie one could want. Choices include:
Black & White Cookies (photo below)
Chocolate Chip Cookies and Chocolate Chip Biscotti
Chocolate Dipped Vanilla Graham Cookies (photo above)
Cranergy Cookies (cranberry-orange), Ginger Spice Cookies
There is no gluten in a typical piece of chocolate, so those with gluten sensitivities can enjoy a chocolate Easter bunny—and jelly beans, too. Your gluten-sensitive loved ones might just prefer an Easter basket filled with My Dad's cookies.
— Karen Hochman
Also check out the article index, below, and see more beautiful cookie photos.
*Symptoms of gluten sensitivity include gastrointestinal problems, headaches, fatigue and other reactions. In addition, some 1 in 133 Americans have celiac disease, a serious condition that can lead to malnutrition and osteoporosis. People can go for decades without exhibiting symptoms, only to have the disease suddenly trigger. Source: GlutenHelpInfo.com.