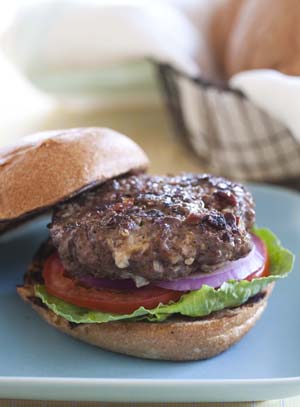 A bison burger pattie mixed with Gorgonzola cheese and chopped sundried tomatoes. Photo courtesy Whole Foods Market. Here's the recipe.
WHAT IT IS: Bison burgers—from the American bison (not buffalo!).
WHY IT'S DIFFERENT: Wonderfully flavorful red meat with great flavor and sweetness, and cholesterol levels lower than skinless chicken breast.
WHY WE LOVE IT: It's delicious, it's healthier, it's a well-needed change of pace.
WHERE TO BUY IT: AllenBrothers.com and HighPlainsBison.com, plus fine retailers nationwide.

Bravo For Bison Meat
CAPSULE REPORT: What gets THE NIBBLE staff truly excited? Bison meat! That's not to be confused with buffalo—there's a big difference.
Sweet and succulent, this better-than-beef red meat is low in fat, cholesterol and calories, and high in protein, juiciness and flavor. It has so little intramuscular fat that it's not only lower in cholesterol, fat and saturated fat than beef, lamb or pork; it's even lower than skinless breast of chicken and most fish (nutritional comparison).
Bison is also an all-natural meat: no GMOs, no antibiotics or growth hormones are allowed by law.
Bison meat is available in almost as many cuts as beef. Whether you're looking for a change of taste or a change to a healthier diet, bison meat burgers are a delicious alternative to beef.
Put it to the test over Memorial Day weekend: start with bison burgers. But make sure you buy quality-bison meat. As with anything else, quality both costs and delivers more.
High Plains Bison and Allen Brothers sell premium bison meat. Both are available online (so you can send a gift box of bison burgers) and High Plains Bison is also sold at fine retailers.
How Hot Is Bison?
Between the taste and the healthiness factor, bison has been gaining fans at a rapid pace. In 2009, the last year for which the National Bison Association has statistics, 70,000 bison were processed: more than double the figure from 2002.
The first bison products we reviewed back in 2006, from Blackwing Bison, were originally kosher-certified, as a way to sell more meat. The line is no longer kosher, because, as the company owner told us, "Bison meat is so hot right now, we can't get enough of it." If the non-kosher meat sells out, there's no business reason to have it kosher-certified.
There's a lot more to discover about bison meat. Head to the next page or start with the article index below.