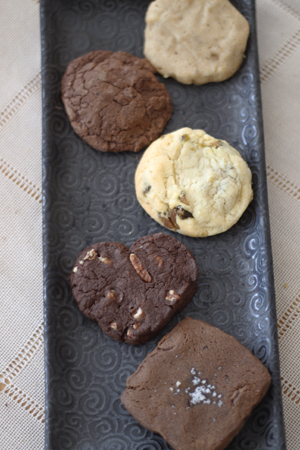 Cookie Daddy: buttery deliciousness. From top: Pistachio Lime, Brownie Cookie, Ginger Macadamia, Dark Chocolate With Pecans and Framboise and Dark Chocolate with Fleur de Sel. All photography by Elvira Kalviste | THE NIBBLE.
WHAT IT IS: Handmade artisan cookies.
WHY IT'S DIFFERENT: The very sophisticated blends of culinary and bittersweet apples deliver complex flavors and aromas.
WHY WE LOVE IT: Top ingredients and creative recipes equal pure cookie pleasure.
WHERE TO BUY IT: CookieDaddy.com.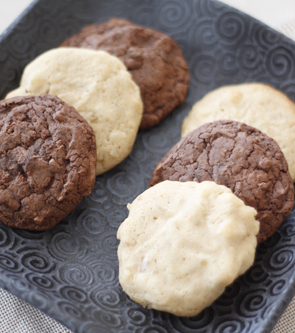 Brownie and Macadamia and Lime Zest cookies.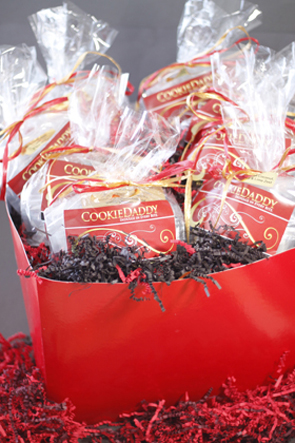 The Big Daddy, the largest of five gift box
assortments.
Cookie Daddy: Gourmet Cookies For Dads & Others
Jump to the article index below
We go to many trade shows each year, in search of great products to feature in THE NIBBLE. But some products, like Cookie Daddy, just show up on our doorstep.
Sanford, North Carolina, home of Cookie Daddy, is smack in the middle of the state. A small city with industries that include brick-making, textiles and biotech, Sanford also can boast an outstanding artisan cookie producer.
The Cookie Daddy is Tom Boerger, who turned an avocation for cooking into a career. Serving up delectable, butter-laden cookies made with the finest cocoa, eggs, nuts and vanilla, Cookie Daddy is a hit. If you're looking for gourmet cookies delivered for Father's Day or other gifting, we give them two buttery thumbs up.
Riffs On The Classics
Cookie Daddy makes each recipe a bit more complex by using special ingredients.
Chocolate Cookies
Deep chocolate flavor imbues the chocolate selection:
Brownie Cookie, with Dutch cocoa and walnuts
Dark Chocolate with Fleur de Sel
Dark Chocolate With Pecans and Framboise, a new heart-shaped cookie with Framboise liqueur and raspberry essence
The Brownie Cookie and Dark Chocolate with Fleur de Sel are similar recipes. If you like a bit of salt counterpoint, go for the Fleur de Sel. It is our personal favorite in this outstanding collection.

Oatmeal Cookies
Both are delightful interpretations of the classic:
Nutty Cookies
These combinations are inspiring:
Ginger Macadamia Nut, addictively good macadamia butter cookies with a ginger sizzle.
Macadamia and Lime Zest and Pistachio Lime, both lovely and lilting with lime and fresh nuts.
Shortbread with Coconut, Macadamias and Lime Zest, delicious by itself. But after tasting the other cookie varieties containing lime and or macadamia nuts, we'd have preferred a different flavor profile—paring back to just the coconut, for example.
Cookie Daddy's Cookie Gifts
You can purchase the cookies by the dozen. They are sealed in vacuum-packed bags to maintain freshness, and Cookie Daddy suggests freezing cookies you won't be eating in the near future.
There are five gift assortments, ranging from every variety of cookie to a selection of four flavors that you select. Chocolate lovers can start with the "Chocolate Lover's Dream."
— Karen Hochman
The article continues below, with cookie trivia.