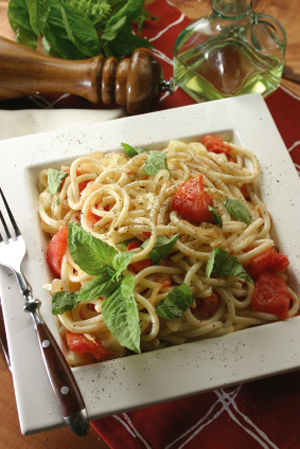 Flavored pastas are even more tasty with matching sauces. Above, jalapeño pasta and a light jalapeno sauce, garnished with grilled tomatoes and fresh basil. And that's just for starters. Photo by Gabriel Domenichelli | IST.
WHAT IT IS: Artisan flavored pastas and matching sauces.
WHY IT'S DIFFERENT: The pasta has much more flavor than other flavored pastas we've tried.
WHY WE LOVE IT: A gourmet course is ready in minutes.
WHERE TO BUY IT: PastaMamas.com.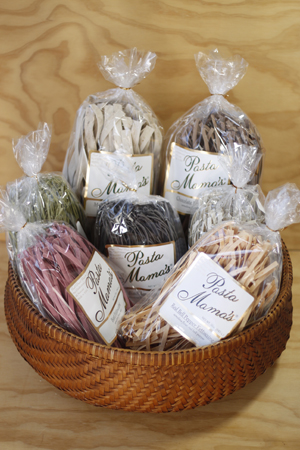 Don't limit yourself to familiar flavors. Go for the new and potentially exciting. Photo by Elvira Kalviste | THE NIBBLE.
Pasta Mama's: 26 Pasta Flavors With Matching Sauces
Jump to the article index below
For more than 25 years, Diane Santillie has been making fettuccine, linguine and pappardelle for sale:
Diane made her first batches in her own kitchen. She took it to Ariel's restaurant in Richland, Washington, where she worked at the time. The gourmet pastas sold out as fast as Diane could make it, and an artisan business was born.
You can buy the pasta and sauces online, to enjoy at home or give as gifts.
Savor The Flavor
Whether as a first course or a main, Pasta Mama's bounty of choices will keep your palate entertained time after time.
Not all 26 flavors (plus plain and whole wheat) are available in all three cuts—thin linguine (1/8 inch wide), medium-width fettuccine (¼ inch) and wide pappardelle (between 3/4 of an inch and an inch). very flavor is available in fettuccine, and the the choices in the other cuts are more than generous. Kosher-certified flavors are indicated with an asterisk (*).
You'll note sweet flavors. These are delicious as sides with spicy dishes and meats (including game). Or, you can serve them with ice cream, sweet cream, whipped cream or crème fraîche as a pasta dessert.
Vegetable Flavors: Beet,* Blue Corn,* Broccoli,* Onion-Dill,* Mushroom,* Red Bell Pepper,* Spinach,* Tomato,* Tomato Basil* and Zucchini.*
Spice Flavors: Black Pepper,* Cayenne Pepper,* Garlic Basil,* Jalapeño,* Poppyseed,* Rosemary-Thyme*, Sesame-Ginger* and Tarragon-Mustard*
Assorted Flavors: Black Calamari, Lemon,* Parmesan-Parsley, Plain,* Pumpkin Spice and Whole Wheat.*
Sweet Flavors: Apple Spice,* Café Irish Cream,* Chocolate* and Cinnamon-Nutmeg.*
Imagine: Blue Corn pasta topped with raw kernels of fresh summer corn, Broccoli pasta with steamed florets, Lemon pasta or Tarragon-Mustard pasta topped with grilled fish, Mushroom pasta with tomato mushroom sauce, Poppyseed pasta with grilled chicken; Zucchini pasta with sauteed zucchini slices, Sesame-Ginger pasta with a stir-fry.
Get Saucy
Pasta Mama's 15 dry sauce mixes, sold separately, match most of the pasta flavors.
Whether you go vertical—Broccoli Pasta with Creamy Broccoli Sauce or Jalapeño Pasta and Creamy Jalapeño Sauce, for example—or decide to mix and match, you're in for some fine pasta dinners.
See the full collection.
— Karen Hochman