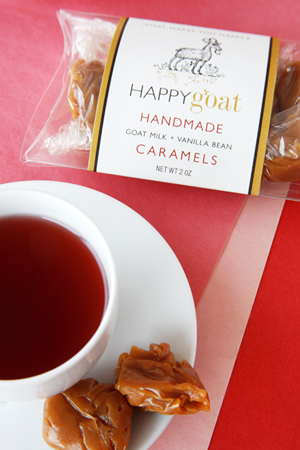 Love goat cheese? You'll love goat caramel. Photography by Katharine Pollak | THE NIBBLE.
WHAT IT IS: Artisan caramel made from goat's milk and butter.
WHY IT'S DIFFERENT: Except for homemade recipes we can't think of another goat's milk caramel!
WHY WE LOVE IT: The caramels have the butteriness of a fine caramel and the forward flavor of top-quality vanilla, along with the slightly tangy finish unique to goat's milk.
WHERE TO BUY IT: HappyGoatCaramel.com.

Goat Caramel: Get Your Goat, Get Happy
CAPSULE REPORT: What makes you happy? asks the label of Happy Goat caramels.
If you're a foodie, food adventurer or caramel lover—or if you are lactose intolerant or asthmatic—these lovely handmade goat's milk caramels could be on your happy food list.
Made in San Francisco's Mission District by Michael Winnike, a self-taught confectioner (who was inspired by a friend's sheep's milk truffles), Happy Goat caramels fill a need in the artisan caramel space—particularly for people who love caramel, but have difficulties with cow's milk. Handmade in small batches with the finest ingredients, they aim to please.
Like goat cheese? You'll probably find goat caramel to be "udderly" irresistible. Don't like goat cheese? Even the NIBBLE tasters who eschew it liked Happy Goat. (If you're resolutely goat-shy, peruse our other Top Pick Of The Week cow's milk caramels.)
The goat milk and butter used to make the caramel come from free-range California goats that graze on grass and clover, supplemented with wholesome, pesticide-free vegetarian feed. The better the diet, the happier the goat and the better the milk and butter.
Read the rest of the review to see the different flavors of Happy Goat Caramels. Start with the article index below. And take our caramel trivia quiz—for fun and to learn more about caramels.