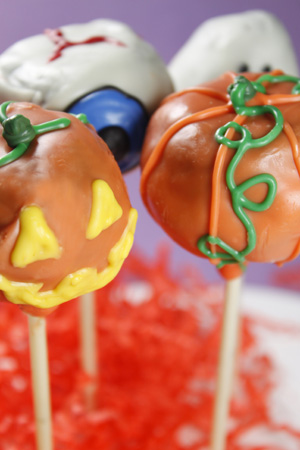 We can't stop eating these luscious Jack o' lanterns, bulging eyeballs, ghosts and pumpkins. They're chocolate-coated, hand-decorated chocolate cake pops. Photo by Elvira Kalviste | THE NIBBLE. Need a stand for cake pops (or cupcakes)? Visit TheCupcakeTower.com.
WHAT IT IS: The best gourmet Halloween treats.
WHY IT'S DIFFERENT: We've tasted [what seems like] every product out there, and picked the most outstanding.
WHY WE LOVE IT: These gourmet Halloween treats combine fine decorating and top-quality ingredients.
WHERE TO BUY IT: TheNibbleGourmetMarket.com.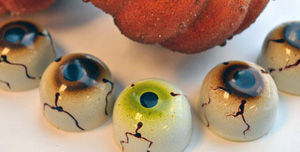 Are you looking at me? Hand-painted chocolate eyeballs with a soft caramel center. Below, solemn ghosts parade with jack o' lanterns. Photography courtesy Anna Shea.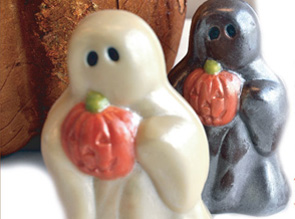 Gourmet Halloween Gifts: From Ghoulish Cake Pops To Chocolate Eyeballs That Ooze Caramel
Jump to the article index below
CAPSULE REPORT: There's no need to spend any of your time searching for gourmet Halloween treats. We've done the hard work for you—tasting the best chocolate, cakes, brownies, marshmallows and other Halloween goodies. Very hard work, indeed!
What we found: exceptional gourmet sweets for you and everyone on your treat list. We looked for:
Our spooktacular selections will please everyone, including the fussiest connoisseurs.
Plus, we have a special Halloween bonus for you: If you'd like to buy any of them at TheNibbleGourmetMarket.com, use code BOO for a 10% discount at checkout on any and all treats (through October 31st).
Now, take a look at them: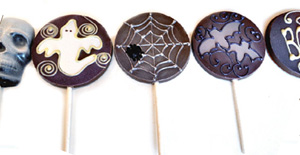 | | |
| --- | --- |
| | This set of hand-decorated chocolate Halloween lollipops includes Skull, Ghost, Spider, Bat, BOO! and Pumpkin. Photo courtesy Anna Shea. |
Click on the product links to learn more about these ghostly-but-great sweets and gifts. You won't find them on store shelves, so in order to receive them by regular mail, order before the witching hour on October 21st.
—Karen Hochman
*An earlier name for Halloween.
Head to the index below to see what page you'd like to visit next.