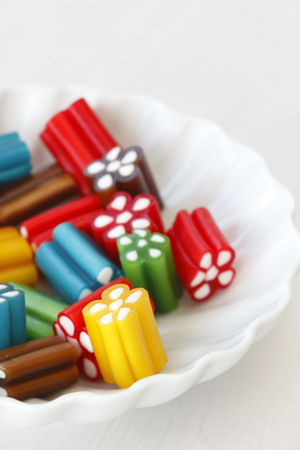 Licorice "shooters." All photography by Katharine Pollak | THE NIBBLE.
WHAT IT IS: Licorice from Australia, where they spell it "liquorice."
WHY IT'S DIFFERENT: No corn syrup, no anise extract substituting for licorice extract.
WHY WE LOVE IT: Robust flavors, a hearty chew and a perky beauty in the candy dish.
WHERE TO BUY IT: KookaburraLicorice.com.

Licorice Candy: A Tastier Chew From Australia (Where It's Spelled Liquorice)
CAPSULE REPORT: In one verse of the famous Australian Kookaburra Song, the bird is perched in a tree eating sweets:
Kookaburra sits on the old gum tree,
Eating all the gum drops he can see.
Stop, Kookaburra! Stop, Kookaburra!
Save some there for me.*

*Sing along to all the words and music.
You can leave all the gum drops to the kookaburra, as long as you get your fair share of Australian liquorice (the U.K. spelling).
Licorice is a "healthier candy": no cholesterol, no salt. Few Americans have grown up without sampling bags of Twizzlers or licorice ropes.
But Aussies simply outdo American manufacturers in making superior licorice. It has more robust flavor, a better chew and a lower, more adult level of sweetness. Mass-marketed American licorice can substitute corn syrup for the sugar and anise extract for licorice extract.
Check out the differences in the full review of Kookaburra Liquorice. Start with the article index below.
NOTE: Historically, licorice root has been used as a remedy for quite a few ills. Only black licorice contains licorice root. Chocolate and fruit licorice—cherry, raspberry, strawberry etc.—use flavorings rather than licorice extract to achieve the flavor.
Find reviews of more of our favorite
candy.