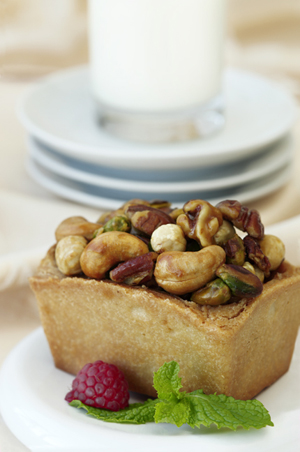 A nut box with mixed nuts. Your favorite nuts are also available in single-variety nut boxes. Photo by Katharine Pollak | THE NIBBLE.
WHAT IT IS: "Nut box" tart in Almond, Cashew, Hazelnut, Pecan, Pistachio, Walnut and Mixed Nuts; plus cookies and biscotti.
WHY IT'S DIFFERENT: We've never seen a pastry "nut box" before: a box made of buttery pastry crust, lined with caramel and heaped with fresh-toasted nuts.
WHY WE LOVE IT: Brilliant concept and execution: buttery pastry, crunchy nuts and excellent caramel. The heaping of healthy nuts make this a guilt-free dessert (or so we tell ourselves).
WHERE TO BUY IT: See TatteCookies.com. If you live in Massachusetts or greater New York City, you can phone to ask where the nearest retailer is. There are lovely items that are too delicate to ship.

Tatte Nut Tarts & Cookies: It Doesn't Get Better Than This!
CAPSULE REPORT: Tzurit Or began baking in her home kitchen and selling her cookies and pastries at farmers markets in greater Boston. The products were so delicious that her customers demanded she open a retail store where they could buy her tarts, cookies and cakes seven days a week.
While we're not within an easy commute of the bakery, Tatte products are easy to order online.
One taste of Tatte's Nut Boxes—the finest form of a nut tart you can imagine—and you'll understand the demand. They are an epiphany of how good a nut pastry can be.
We can't rave enough about the perfection of these delectable pastries. The buttery crust is perfect, the fresh-roasted nuts are perfect, the homemade caramel is perfect.
Yet, the brilliance of the pastry is that it is not too rich. You can feel almost healthy, digging in to those crunchy nuts and textbook-perfect crust. The caramel unobtrusively binds the crust and the nuts. There's just as much as needed to do the job.
Some of Tatte's baked goods are too delicate to travel (or need to be eaten on the same day). But the Nut Boxes, in Almond, Cashew, Hazelnut, Pecan, Pistachio, Walnut and Mixed Nuts, are champion travelers that bring the party with them. (We were in pistachio heaven, cashew heaven, pecan heaven and so forth...and are headed for our fourth order.)

We think the nut boxes are superb holiday gifts, corporate gifts, stocking stuffers and stunning desserts; not to mention gifts for your Thanksgiving hosts. Individual nut boxes (that can be divided into two portions) are $6.00; a 13.75-inch nut tart is $38.00.
Tatte's delicious baked goods are sold throughout the Boston and New York City areas plus online, and have a loyal fan base around the world. One bite and you'll know why.
Tatte, pronounced TAH-tay, is what Tzurit's daughter calls her grandmother, Tzurit's mom—the one who taught Tzurit how to bake. Tatte, you did a great job!
Read the rest of the review to discover more splendid Tatte treats. Start with the article index below.