Sheer Bliss Pomegranate Ice Cream: Pomegranate Paradise
CAPSULE REPORT: Pomegranate emerged as the hot new flavor of 2005. By 2006, specialty food producers were selling not only pomegranate juice drinks and sodas, but pomegranate barbecue sauce, candy, mustard, vinegar, salad dressing and just about anything else one might want with pomegranate flavor.
But there was one lone voice in the ice cream category: Sheer Bliss Ice Cream. At a major food trade show in the summer of 2006, the new company wowed the crowd with its pomegranate ice creams and the metal pint containers that housed them.
We were smitten with the Sheer Bliss pomegranate flavors, and have been hooked ever since.
The super-creamy Vanilla With Pomegranate Swirl is dreamy. You can also buy delicious plain Vanilla without the swirls.
Freedom is red, white and blue: vanilla ice cream with pomegranate and blueberry swirls.
For more intense pomegranate flavor, we love Pomegranate and Pomegranate With Dark Chocolate Chips (the latter is perhaps our favorite ice cream flavor with a national retail distribution).
The company also makes chocolate-covered pomegranate ice cream bars (another favorite); BlissBites, delectable ice cream bonbons in chocolate, coffee, pomegranate or vanilla (a great 50-calorie treat); and pints in chocolate and coffee (on the mild side, in contrast to the other flavors). Blisswich ice cream sandwiches are just launching. The line is certified kosher by KOF-K.
Why A Metal Can?
Sheer Bliss chose metal cans—unique in the market—to preserve the integrity of the ice cream. Most of us have experienced freezer burn and shrunken, gummy ice cream when a cardboard pint has been in the freezer too long. The nonporous metal container preserves the ice cream until you've enjoyed the last drop.*
*In our house, no pint of ice cream usually lasts longer than two days. But most people have more restraint than we do.
See how many different ways you can recycle the metal pints. We now use Sheer Bliss cans to store all of our tea bags, specialty sugars, homemade ice cream and other products that can benefit from airtight storage.
Some NIBBLE staff members cover the empty cans with fabric to hold desktop items, kitchen utensils and beauty products.
How would you use them? Tweet us @TheNibble or comment at Blog.TheNibble.com.
Check out the related information below, including the history of the pomegranate.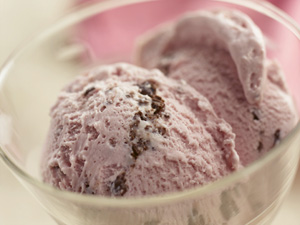 Perhaps our favorite flavor: Pomegranate With Dark Chocolate Chips (it's hard to choose just one favorite). Photo courtesy Sheer Bliss.