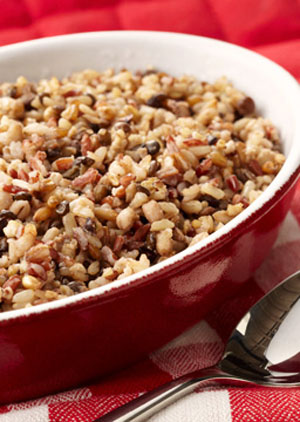 This plain bowl of SooFoo can be turned into glamorous fare. See the photos below. All photography courtesy SooFoo.
WHAT IT IS: A tasty, healthy mix of nine whole grains and legumes.
WHY IT'S DIFFERENT: It's a unique mix of grains and legumes—a nutty, earthy flavor with a hint of sweetness.
WHY WE LOVE IT: Wonderful flavor and texture, versatility as an ingredient in different types of dishes, very filling. And there are protein and complex carbs in each spoonful.
WHERE TO BUY IT: See store locator or Amazon.com.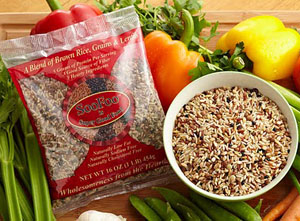 A one-pound bag of SooFoo.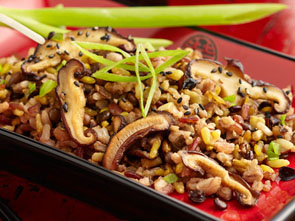 SooFoo with shiitake mushrooms. Get the recipe.

SooFoo Means Super Good Food
Jump to the article index below
It's Healthy Food Month At THE NIBBLE
After all the holiday indulgences—and before Valentine's Day chocolate—our Top Picks focus on delicious foods that are also good for you.
SooFoo is a mix of whole grains and legumes created by a home cook (who is also an author, entrepreneur,* film producer, creator of SKYY vodka and philanthropist), who wanted a yummy yet healthy side dish to enjoy regularly. The result, a gourmet blend of brown rice, grains and lentils, became a favorite of family and friends, who encouraged him to "share it with the world."
*Learn about Maurice Kanbar, inventor of SooFoo.

SooFoo is an all-natural, low-fat, sodium- and cholesterol-free blend of the tasty and good-for-you: barley, black lentils, brown lentils, brown rice, buckwheat, green lentils, oats, rye berries and wheat berries. The name, SooFoo, is a contraction of "super good food."
A quarter-cup dry serving (a half-cup or more when cooked and fluffed) has 5 grams of protein and 4g of dietary fiber. And it's so easy to enjoy it!
How To Serve SooFoo
Just simmer the mix in stock or water (add a bouillon cube) for about 40 minutes. You can use a rice cooker if you double the amount of liquid. You can then serve it:
For breakfast, like oatmeal—add some cinnamon along with the milk and sweetener (try maple syrup), plus fresh or dried fruit
In a bowl of almost any soup
In a salad
As a hearty side dish
In stuffing
With pesto or tomato sauce (add some
grated cheese)
SooFoo reheats well, so you can make the whole package at once.
We think you'll love this delicious, good-for-you food as much as we do. It's a effortless way to start eating healthier in the new year.
SooFoo is available in stores (here's a store locator), including Whole Foods Markets, for about $3.50 per 16-ounce bag. It will soon be available on Amazon.com.
— Karen Hochman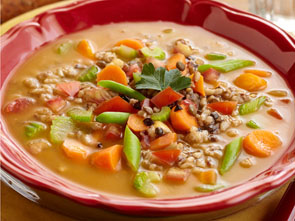 Vegetable soup enhanced with the texture and nutrition of SooFoo. Get the recipe.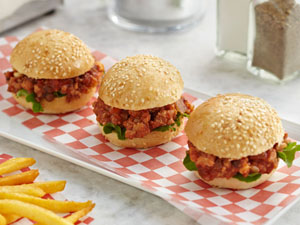 SooFoo Sloppy Joes. Get the recipe.